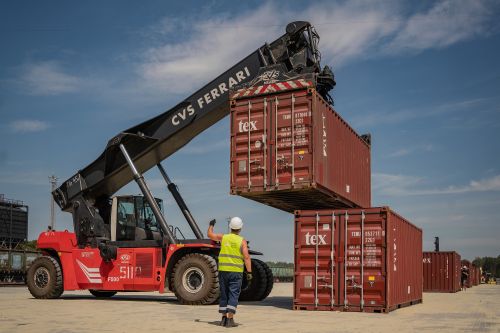 The Lemtrans group built a grain terminal near the Ukrainian-Polish border in cooperation with its partners in 2022.
Lemtrans announced this in a statement on its official website, the CFTS portal reports.
"The Lemtrans group (which includes the Levada Cargo company) and a partner launched the Mostyska cargo terminal, which can additionally process up to 5 million tons of various cargoes annually, on the Ukrainian-Polish border this year. Together with a partner, we have adapted to the needs and completed another grain terminal that can handle 60,000 tons of grain per month," said Valerii Andrianov, director of strategy and development at the Levada Cargo company.
Andrianov added that his company would focus on projects capable of increasing the share of cargo containerization in Ukraine in the future in 2023. "That is why we—and the Lemtrans company as an investor—plan to begin building the next intermodal terminals," he said.
As reported earlier, the Mostyska container terminal was launched into operation in the summer of last year. Lemtrans and the Rail Trans Investment company invested in the project. The N'UNIT and Levada Cargo companies are partners in the development of a container business.
Regarding the grain terminal, it was reported in the summer that UGTC Trade, a grain trader that owns five transshipment terminals in Ukraine, was a partner in the project.