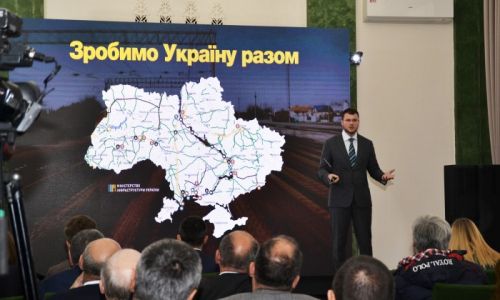 Ukraine's Minister of Infrastructure Vladyslav Kryklyi presented the Ministry of Infrastructure's list of tasks to be completed before the end of this year, in 2020, and in the coming five years during a visit to Kharkiv on November 12. Kryklyi outlined the ministry's priorities in the main areas of infrastructure development. He announced specific dates for completion of some measures but the dates of completion of others were unclear. We highlight the main points of the infrastructure minister's presentation.
The Ministry of Infrastructure plans to complete the following tasks before the end of 2019:
- commissioning of 1,500 kilometers of repaired roads and 34 bridges;
- organization of tenders for supply of trolleybuses for Lutsk and trams for Kyiv;
- launch of electronic services for businesses (electronic waybills, electronic user accounts for carriers, and a maritime "one-stop shop");
- upgrade of the State Transport Safety Agency (Ukrtransbespeka);
- reduction of the customs control period and reduction of the total travel time of Ukrzaliznytsia's international trains.
Roads
Most of the plans that Kryklyi announced for the coming years are, in principle, not new, but he announced specific figures.
As reported previously, the draft State Budget for 2020 allocates UAH 73 billion for road infrastructure. This is 40% more than the amount that was allocated in 2019. In general, the infrastructure minister has big plans for the road sector next year. "Our goal is travel from Kharkiv to the western border of Ukraine by car in 10 hours," the Ministry of Infrastructure said.
Firstly, it was emphasized during the presentation that roads of national and international importance would be overhauled or reconstructed in a way that would ensure that it would be unnecessary to patch them in the next 10-15 years. The task for 2020 is to connect regional centers with high-quality roads. Next in the order of priority are roads from regional centers to district centers and from district centers to population centers. The ministry's plans also include construction and repair of roads leading to socially significant facilities – all major schools and hospitals.
Systems for weighing vehicles in motion are an important element of road maintenance. In addition to the six Weigh-In-Motion Systems that are expected to go into operation before the end of 2019, the Ministry of Infrastructure plans to install 20 more in 2020. The ministry also intends to equip Ukrainian roads with 150 additional Weigh-In-Motion Systems in the future.
Road safety is a separate issue. The global goal is to reduce the rate of accidents on Ukrainian roads by 30% and establish more than 300 automatic systems for recording traffic violations on highways of national importance.
In 2020, the Ministry of Infrastructure plans to equip 1,566 pedestrian crossings and provide lighting at 1,504; install 87 traffic lights with screens for measuring the speed of vehicles before they enter population centers and means for forcible reduction of speed at 42 locations; install 35 "on demand" traffic lights at zebra crossings on roads with heavy traffic; build 266 roundabouts, etc.
The Ministry of Infrastructure plans to ban the use of converted vehicles for passenger transportation, as well as transportation of passengers in buses without seat belts (with the exception of city buses operating on fixed routes) and tachographs.
Railways
In the area of rail transport, the new minister's plans are very ambitious. He wants to replenish Ukrzaliznytsia's rolling stock with 2,000 freight and 26 passenger cars and sign agreements for purchase of 40 diesel locomotives and 200 electric locomotives (with localization of production in Ukraine). Electrification of 110 kilometers of tracks is also in his plans.
The Ministry of Infrastructure wants to improve services to passengers by improving the lighting in railcars, upgrading bedsheets, and improving the cleaning system in railcars.
The ministry also wants to launch seven new railway routes: Uzhhorod – Kherson via Mykolaiv and Kryvyi Rih, Zaporizhia – Ivano-Frankivsk via Dnipro, Zaporizhia – Chernivtsi, Kyiv – Kovel, Kyiv – Zaporizhia, Lysychansk – Odesa, and Kyiv – Mykolaiv – Kherson. The Ministry of Infrastructure has also said that it is working to broaden Ukraine's rail links with the European Union and Belarus by developing routes to Poland, extending the Four Capitals train to Tallinn, and launching Lviv – Minsk trains via Kovel and Brest and Gomel – Kyiv trains.
Of course, the Ministry of Infrastructure did not ignore the issue of concession of railway stations. In particular, the ministry is confident that PPPs will turn them "into premises with retail space, cafes, and hotels." In the future, convenient navigation and infrastructure for people with disabilities should be introduced at railway stations.
Among other things, Kryklyi promised to develop a "safety infrastructure" on railways: new approaches and access to trains, video surveillance systems at some level crossings, automation of 50 passive level crossings, repair of passenger platforms and tunnels, and installation of fences at railway stations.
However, the Ministry of Infrastructure set no deadlines for achieving these goals in the railway industry.
Airports and seaports
The goal that has already been announced for the aviation sector is to triple the proportion of the "flying" population from 5% to 15% and the share of low-cost airlines to 45% (of the total number of flights). This includes reduction of the cost of tickets for domestic flights through "optimization of taxation" of Ukrainian carriers, reconstruction and construction of airports (Dnipro, Mukacheve, and Izmail), and concession of the Kherson, Chernivtsi, and Zaporizhia airports. In addition, the Ministry of Infrastructure intends to simplify the procedure for granting international status to airports. Again, there are no deadlines for achieving these goals.
To make water transport accessible to businesses and passengers, the Ministry of Infrastructure intends to create an E40 waterway, repair of four locks (in 2020), dredge River Dnipro and the ports of Odesa, Pivdennyi, and Chornomorsk, and concession the ports of Olvia, Kherson, Mariupol, Mykolaiv, and Odesa, as well as the ferry complex in Chornomorsk.
Mail and Digitalization
The Ministry of Infrastructure intends to find a strategic investor for the Ukrposhta postal company and sell the company's unused assets. With the money that is freed up, the company will be able to open new branches, repair and computerize its existing branches, and renew its fleet of vehicles. Construction of new mail sorting centers in Kyiv and Lviv, launch of 500 mobile branches, and the long-awaited start of provision of financial services are planned.
The ministry did not forget about digitalization. Work is underway on such innovations as introduction of a single electronic ticket for all modes of transport, e-port (electronic user accounts for sailors), electronic waybills, and electronic user accounts for carriers.