On July 5, one of the largest players in the market of electric locomotives production - the French Alstom - announced the opening of a representative office in Kiev. And before that, on June 27, Astana saw the first electric locomotive manufactured for export by EKZ, the local Electric Locomotive Plant, the main shareholder of which is Alstom. This is the first of 40 freight locomotives Prima T8 AZ8A for Azerbaijan. Further plans include Uzbekistan, Georgia and ... Ukraine.
"Ukraine is a very promising market for producers of railway traction," - this was the leitmotiv of our communication with the representatives of Alstom in Astana. The fact that the manufacturer is interested in cooperation with "Ukrzaliznytsia" is also evidenced by the visit of the company's managers to Kiev this spring, and the mentioned opening of the representative office in Kiev, and the already announced working schedules. So, Alstom would like to produce 350 locomotives for Georgia and Ukraine, more than 300 of which are intended specially for "Ukrzaliznytsia". As for Ukraine, the negotiation process is just beginning and there is still a lot of "buts".
We talked with the managing director of Western and Central Asian cluster Alstom Bernard Peille about the company's plans for cooperation with the UZ, seeking funding, possible production sites in Ukraine and the pitfalls.
You have been working in Kazakhstan since 2012. Are you satisfied with the results for this period?
We started in 2010. Then we concluded our first contract with "Kazakhstan Temir Zholy" and we had built this plant by the end of 2012. We managed to produce 48 freight locomotives and 20 passenger locomotives in the meantime.
(For the time of the interview, the 49th electric locomotive Alstom was located in the final assembly shop of EKZ for KTZ - CTS)
What are the advantages of working here, in an industrial park, located in a special economic zone?
For us, they are, first of all, concerned with the exemption from import duties.
We are at the stage of negotiations with "Ukrzaliznytsya"
Who are your customers here?
We have been producing locomotives for Kazakhstan. Today you see our first locomotive, which is produced for the Azerbaijan Railways. This is our first export contract. This is a rather large contract for 50 locomotives and, accordingly, we hope to produce more locomotives for export in future. There are tenders, and we are planning to produce locomotives for Uzbekistan, Georgia, the Baltic States and for most of the space 1520.
Are there any awarded contracts or negotiating?
It is important to bear in mind that we have to take several steps in order to establish cooperation with railway companies. To begin with, the railway company itself should have clear understanding what it really wants. Then, accordingly, tenders occur. At the moment, we are waiting for the beginning of an official tender to start cooperation with the Uzbekistan Railways. We are also working on a feasibility study for the Georgian Railways. And finally, we are at the stage of negotiations with "Ukrzaliznytsia".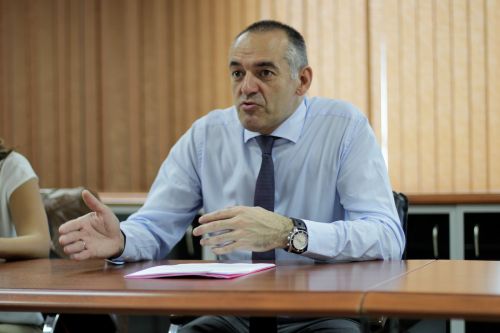 Alstom signed a contract with "Azerbaijan Railways" in 2014, but the first locomotive under the contract was made only now. What took it so long?
Yes, the first contract was signed in 2014, but it took a long time to sort out the financing issues. In addition, we needed to reconsider the contract, because initially it was about the delivery of 50 freight locomotives. Then changes were made, and we began talking about 50 locomotives, 10 of which are passenger locomotives. It took quite a long time to make these changes in the contract and start producing locomotives.
You visited Kiev several months ago, and the issue of the production of electric locomotives in Ukraine was one of the discussed. So still, if we talk about cooperation with Ukrzaliznytsia, what exactly is meant - production on the territory of Ukraine, or supplies from abroad, for example, from Kazakhstan?
We have discussed a lot of options. For us the most important was to get a clear overview of the real needs of Ukrzaliznytsia. It's no secret that most post-Soviet countries use locomotives, which were built in the late 80's. So, it is time to update the existing fleet of vehicles. We needed to understand priorities, and technical features of the Ukrainian railways. And at the moment we have a quite clear picture of the needs of Ukrzaliznytsia.
If we have funding, we will consider the possibility of assembling locomotives in Ukraine. It is impossible to reject such a probability.
Our company is operating in 60 countries of the world, we have factories all over the world. We build factories in many countries, for example, here in Kazakhstan, in South Africa, in India ... But here a lot depends on the capabilities of Ukraine itself - that is, on the volumes of a possible order. Yes, probably, the production of locomotives in Ukraine will not start tomorrow, because we are talking about plans for the next 10-15 years. Of course, if we have funding, we will consider the possibility of assembling locomotives in Ukraine. It is impossible to reject such a probability. Also, much depends on the country from which funding will be provided. For example, if the source of funding is France or Germany, a certain part of the product shall be produced in these countries. Therefore, we shall first resolve these issues, and then, most likely, by the end of the summer we will come up with a specific proposal on this issue.
Are the statements of representatives of the Ukrainian government concerning possible launching of components production for locomotives Alstom in Ukraine correspond to the facts?
Yes, we are considering the possibility of producing some components in Ukraine. But at this stage we are not able to give detailed information about what type and in which volume, since we still have to choose a partner.
You have probably studied the possibilities of enterprises for the potential localization of the production of your electric locomotives in Ukraine. Can you name the favorites?
Ukraine has a very interesting history of the development of railways, and there are sites that could be used. Some of them are in fairly good condition, some are not very good. Now we can really name about five different factories - Zaporizhia, Dnipro, Kryukov Railway Car Building Works, etc. Having visited Ukraine, we studied the capacities of each of them. We have not yet made a decision, because it depends not only on the productivity of the plant itself. At the moment I cannot say that we will cooperate with this or that plant, because it is important not only to choose a partner, but also how we will cooperate with local suppliers. The proposal is not ready yet, it may take another two to three months. But I can say that there is some potential.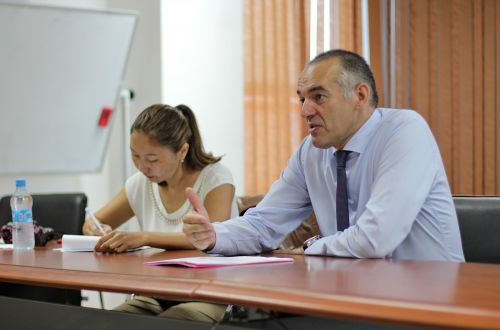 If Alstom still comes to the Ukrainian market, what is the possible percentage of localization of production?
As I have already said, firstly we need to understand how we will work with our partners and suppliers then, we estimate the percentage of localization of production. After all, we also need to assess the level of maturity of suppliers, because we cope with delivery of quite high-tech mechanisms. We cannot immediately talk about a high percentage of localization. For example, at this plant (at EKZ in Astana. - CTS), the localization makes 25%, and we are aiming to increase this share to about 50%, according to the contract. In service, we can achieve 65% of the localization. It would be too optimistic to think that we will start with a large percentage of localization in Ukraine. But, at the same time, if desired, a sufficiently high level of localization can be achieved within 3-5 years.
We are trying to convince the French credit and export agency to join our proposal to "Ukrzaliznytsia" and the Ukrainian government and to finance this project
What are the most likely sources of funding?
That's a good question. Actually, we are just trying to convince the French credit and export agency to join our proposal to "Ukrzaliznytsia" and the Ukrainian government and to finance this project. We also need to understand whether Ukraine will be able to partially finance this project. So, it is a long process. Here, in Kazakhstan, it took us several years - just like in the case of Azerbaijan. So, I do not think that we will solve this issue tomorrow, because we started this only in the spring this year. But we will definitely come out with a proposal that will be discussed with the Ukrainian government and Ukrzaliznytsia.
One of Alstom's partners in Kazakhstan, Russian Transmashholding, is sanctioned in Ukraine. If a question rises about the supply of locomotives from Kazakhstan, how are you going to solve this problem?
Transmashholding is a small shareholder of this plant. Alstom started its work in EKZ with a minority stake of 25%. Two years ago, we reached a 50% stake and now we buy another 25% from KTZ, so we will own 75% in 3-4 months. The one who has 3/4 of the shares is practically a full owner of the plant. The matter of sanctions against Transmashholding still needs to be discussed, but if such problem arises, we will offer alternative options. Here we again return to the question of funding, because in case of French funding, it is likely that half of this funding will be realized on production in France. In this case, the situation will be radically different. A lot of nuances have to be taken into account.
The matter of sanctions against Transmashholding still needs to be discussed, but if such problem arises, we will offer alternative options.
You have a ready solution for the 1520 mm track gauge - the AZ8A locomotives which you are producing for Azerbaijan and similar KZ8A locomotives for Kazakhstan - which operate on alternating current. But Ukraine also has a need for two-system electric locomotives. Do you have plans for the production of such machines?
That's true, Ukraine requested 4 different types of locomotives. They are locomotives for networks of 25 kV, 3 kV, dual-system freight and passenger ones. We have a range of Prima electric locomotives, within this range heavy-duty locomotives are already used in several countries - Kazakhstan, India. We have dual-system passenger electric locomotives in Azerbaijan. We are going to offer single-system 3 kV locomotives to Georgia. All these locomotives Prima - freight Prima T8, passenger Prima M4. So our answer is: yes, we can produce electric locomotives, working on any existing in Ukraine voltage of the contact network. We have all possible combinations of working with the contact network for different markets.
Do you have hybrid designs - locomotives operating on some sections of the track without a contact network?
We have encountered such a problem before. We have a hybrid technology using a battery, but basically it is used on shunting locomotives. Hybrid cannot be used if thrust power of 6-9 tons is required. But if you need to move the train for a short distance, we have the technology how to make it in a perfect way.
Do you consider the possibility of testing of your locomotives in Ukraine (for example, like General Electric, by giving Ukrzaliznytsia one test locomotive)?
Yes, we will be able to provide a locomotive for testing in Ukraine.