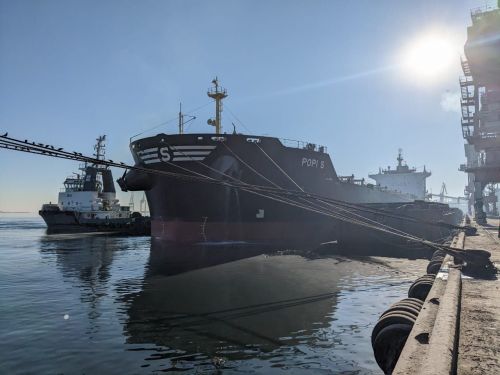 It became much more difficult and expensive to attract ships after maritime insurance companies added Ukraine's territorial waters to their list of areas with an elevated likelihood of war, piracy, or terrorism. The situation became even more complicated this year when the London-based International Group of P&I Clubs, which is the most influential player in the maritime insurance market and the entity that actually sets the rules of the game on the market and covers about 90% of the risks of all ocean-going vessels, announced that it would no longer provide reinsurance coverage for ships operating in the entire northern Black Sea region. The consequence of this decision is that reinsurance contracts, which are usually extended for 12 months at the beginning of a calendar year, were not extended to cover war-related risks this time. This means that any vessel that planned to enter the potentially dangerous waters of the Black Sea essentially does so at its own peril and risk: insurance companies will not cover losses related to an incident or damage to such a vessel.
Ukraine is looking for alternative options for reinsuring war-related risks, including the use of state budget funds, the holding of direct negotiations with reinsurance companies, and the use of funds from international financial donors. The cost of this issue is extremely high: its resolution will determine whether Ukraine will be able to continue exporting and importing goods through seaports and transportation costs.
How does the market work?
When Russia announced naval exercises in the Black Sea and the Sea of Azov on 15 February last year, the Joint War Committee of the Lloyd's Market Association (LMA) added Ukrainian and Russian territorial areas waters in the Black Sea and the Sea of Azov to its list of areas with an elevated likelihood of war, piracy, or terrorism (JWC Listed Areas). The LMA made additional changes to the JWC Listed Areas on 4 April 2022, when it added all the territorial and internal waters of Ukraine (i.e., the Danube - Black Sea deep-water fairway, the navigable rivers Danube, Dnipro, and Southern Bug, the Dnieper-Bug Estuary canal, etc.), as well as the entire country of Russia, to it.
"In practice, this means that if a shipowner intends to enter a potentially dangerous area, it must pre-negotiate with its Protection and Indemnity (P&I) insurer and, if applicable, its Hull & Machinery (H&M) insurer, providing details of the relevant port call and its expected date. Insurers require the payment of Additional War Risks Insurance (AWRI) for the additional risks associated with such port calls. If a shipowner does not do this, then the shipowner must cover all the insured risks that occur during such a voyage - even a sailor's illness - with its own funds," said Artem Volkov, the head of the maritime law practice at the ANK law firm.
As a general rule, war-related risks are not included in any insurance coverage. This is primarily due to increased risks of damage or destruction of property because of military operations and excessive amounts of damage. When a Russian missile hit a merchant ship in the first few days of the war, it probably resulted in tens of millions of dollars in damages not only because of the damage to the ship but also because of the loss of its cargo, the harm to the lives and health of crew members, the potential pollution of the sea, and other costs. Specialized companies on the market deal with insurance and reinsurance of these types of risks, including war-related risks. "Insurance companies usually reinsure such risks with reinsurers. Sometimes it can be a pool of 5–6 reinsurers, each of which assumes an agreed portion of the risk in exchange for a reinsurance premium," said Volkov.
Fluctuations in premiums
In practice, the inclusion of Ukraine in a JWC Listed Area has meant that it is necessary to pay additional premiums to insurance companies for any ship calls to Ukrainian ports. Before the launch of the Black Sea Grain Initiative in July, it was noted that insurance premiums for merchant ships in certain parts of the Black Sea had already increased 20 times (from 0.025% to 5% of a vessel's value) since the beginning of the full-scale Russian invasion of Ukraine.
The Risoil company's owner Shota Khadzhishvili said in an interview, "Now, it is important that ships start arriving. So far, we do not see ships coming to us. We see that two or three Turkish ships have gone to the port of Chornomorsk, but mass arrivals of ships for loading at all the terminals of all ports are not yet visible. This is due primarily to insurance. War-related risks are quite an expensive pleasure. It is about 3.5-5.5% of the cost of a ship. It would be acceptable if it were about 1%. Insurance companies have to come up with reasonable figures so that shipowners can take the risk of going into a territory where a war is going on."
Subsequently, Ukraine's Deputy Minister of Infrastructure Yurii Vaskov said that insurance terms were improving with every ship call. "Several international organizations and insurance companies facilitated this. However, it is a fully commercial market, and, as a country, we do not participate in it. We only ask for help and to simplify the insurance terms," Vaskov said in an interview with the CFTS portal.
The situation has somewhat stabilized. According to Volkov, the additional insurance premiums are 1-1.5% of the cost of a ship for ship calls to the ports of Greater Odesa and 0.5-0.75% for ship calls to ports on the River Danube.
However, there is a significant disparity compared with the cost of insuring ship calls to Russian seaports. To mitigate reinsurance risks, Moscow has created a special institution called the Russian National Reinsurance Company, into which it has pumped more than RUB 750 billion in state budget funds to guarantee reinsurance payments. Several countries that import Russian goods, including Turkey, India, and China, have recognized it. This has allowed Russian shipowners to receive a favorable insurance premium of less than 1% of a ship's value and increase their exports against the backdrop of the blockade of Ukrainian ports and the problems attracting ships to export Ukrainian products.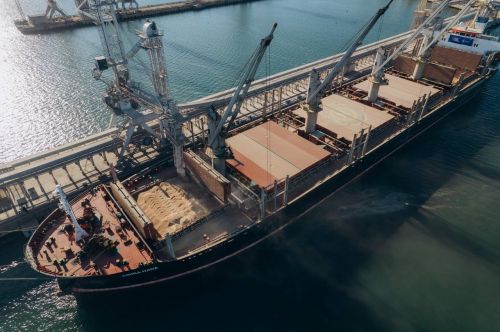 State guarantees and a new institution
Even in a market that is more or less stable, Ukraine remains dependent and any military or political complication can either raise rates again or close the reinsurance market to the country. This was demonstrated in November when Russia suspended its participation in the Black Sea grain corridor. The London-based insurer, Lloyd's of London Ascot, said at the time that it was also suspending the provision of insurance cover for new shipments through the Black Sea grain corridor until it had more clarity about the situation there. In addition, United Nations Under-Secretary-General for Humanitarian Affairs and Emergency Relief Coordinator Martin Griffiths said that insurers had told his organization that their insurance premiums for Black Sea shipping could jump by a quarter or half.
To provide at least some guarantees and increase the cargo turnover in Ukrainian ports, Ukraine allocated UAH 250 million for covering the war-related risks of the maritime and railway industries at the beginning of the summer. The funds were allocated from the reserve fund of Ukraine's state budget to guarantee the safety of shipping in Ukrainian port waters in the Danube region and rail freight transportation. The condition for participation in this program is that a shipowner must have insurance. According to Volkov, Ukraine is thus trying to provide additional guarantees to shipowners making ship calls at Danube ports if, for some reason, their insurance companies refuse to provide coverage. However, the amount of money available in this reserve fund is not comparable to the potential losses that a business can incur due to war-related risks.
The Ukrainian authorities proposed an effective mechanism for resolving this problematic issue in Davos, where First Deputy Prime Minister/Minister of Economy Yulia Svyrydenko once again stressed the importance of increasing Ukraine's exports and announced that the creation of a separate organization under the auspices of the World Bank to reinsure war-related risks, including transport risks, is currently being discussed.
The creation of a working reinsurance mechanism with the participation of Ukraine's Western partner countries will not only be an effective way of supporting Ukrainian enterprises and the country's macroeconomic stability, but it will also serve as an additional argument in favor of completely lifting the blockade of Ukrainian ports and extending the export-import corridor to cover all types of goods.