The Kharkiv international airport handled 962,500 passengers in 2018, and this positive dynamics has continued this year. The volume of incoming passenger traffic increased by 20% and the volume of outgoing passenger traffic by 23% in the period of January-February 2019. In addition, Kharkiv residents were given the opportunity to fly on new routes in the first two months of 2019, when the SkyUp airline launched flights to the United Arab Emirates and the Ernest airline launched flights to Italy. However, the most significant event of the past few days was the announcement that the Ryanair airline will begin operating flights to Kharkiv. This Irish low-cost airline has already begun selling tickets for flights to Krakow and Vilnius.
The Kharkiv airport's General Director Volodymyr Vasylchenko discusses future plans for cooperation with Europe's largest airline, negotiations with Qatar Airways, Wizz Air's "right of the first night," and the desire to launch flights to Scandinavian and Mediterranean destinations in an interview with the CFTS portal.
The volume of passenger traffic through the airport increased by 19% to almost 1 million in 2018. To what does the airport owe this growth?
Primarily to passengers who want to fly. Flights have been launched to a number of new destinations. Wizz Air has provided us with a large number of destinations. The load factor on flights to all these destinations is very good: three cities in Poland, Dortmund (Germany), and Vienna (Austria). The latter destination is very popular. Flights from our airport to this destination were first launched more than 12 years ago. Kharkiv and Vienna are linked by business relations and education. We noticed that the load factor reached almost 100% literally within a few weeks after the resumption of flights on this route, and it has remained approximately at this level. Therefore, Wizz Air increased the frequency of its flights on the route from two to three per week soon after launching the flights in order to meet demand.
Who travels on these flights? Students, migrant workers, or tourists?
Unfortunately, we are unable to track this clearly. For example, we have noticed that about 30-40% of the people flying from London on the routes are British citizens. Who are they? That is an interesting question.
As for Poland, the level of activity there is high, with students, workers, and tourists traveling, especially on weekends. I think they are largely tourists and students, but there are definitely migrant workers among these passengers.
The main reason for the sharp increase in the number of people traveling is, of course, the introduction of visa-free travel between Ukraine and the European Union and the lifting of all travel restrictions. Therefore, people are gradually developing a "freedom stereotype." Personally, I believe that this achievement has an effect not only on the airport's passenger traffic, but also on the Ukrainian economy as a whole.
Why did Wizz Air flights to London fail? Because passengers had difficulty obtaining visas?
We think so. In fact, it is quite an interesting and popular destination. We need London. However, people probably get scared when they imagine the entire procedure for obtaining a visa: a trip to the visa center in Kyiv, a queue, and an interview... All this involves a lot of hassle and money. This is probably important. According to our calculations, the entire undertaking costs more than USD 150, which adds to the cost of a trip.
However, I think it will take time. The possibility that this flight will be full is obvious. We hope to relaunch flights to this destination.
Who will perform the flight? Wizz Air?
It could also be Ryanair. I think that Wizz Air will also not refuse if it sees changes because it has already invested in this destination. The original launch of this this flight was their achievement. Wizz Air probably still has "the right of the first night" there.
For how long did you hold talks with Ryanair on launch of flights?
Let me tell you a little about the history of our "relationship." The airport and the airline found themselves at the same negotiating table during the Routes aviation conference, which is the world's largest aviation conference, when we organized it in 2010. The forum was successfully held inside the newly completed Terminal A building. That was when our relationship with Ryanair began. Since then, we have been constantly holding talks.
The launch of flights from Kharkiv to Krakow and Vilnius has already been announced. Which other Ryanair routes should be expected?
We are negotiating with Ryanair on new destinations. We are currently discussing the possibility of launching flights to Germany, Britain, and the Mediterranean countries.
What are the other prospects on the low-cost aviation market?
It is necessary to handle these carriers first. Not every low-cost airline known to us has a strategy for entering the Ukrainian market. We are communicating with all the ones operating on the European continent.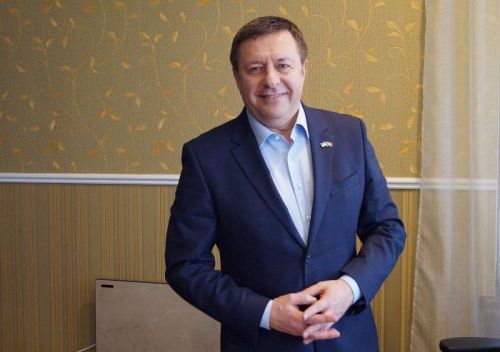 Photo: CFTS
Do Arab airlines have any interest in the airport?
We had a very popular flight to Dubai until 2014, when flydubai flew to Kharkiv. The load factor was very high. Together with it, Air Arabia flew to Sharjah. Unfortunately, these flights were suspended and then flight bans were imposed by some aviation administrations, particularly the United States, the opinion of which is important to Arab airlines.
We are very keen to relaunch flights on these routes. We are working on it. The United States' Federal Aviation Administration lifted its ban on flights to our region in 2018. Accordingly, we have reason to return to these conversations. We will continue to work to relaunch flights in cooperation with Ukraine's State Aviation Administration. As of today, we have relaunched part of the route by launching flights to Sharjah together with the SkyUp airline.
However, the company sells the bulk of its tickets to tour operators...
Yes, but tickets are also available on free sale. Therefore, while we are trying to persuade Arab airlines, which are not the fastest in the world, we are hoping that our own carrier will occupy this niche and develop the route.
We also participated in talks with Qatar Airways together with the Lviv airport. Therefore, there is hope. Qatar Airways is the most powerful and most popular global airline with a very high status. It has its own plans, and we hope that it will include Kharkiv. In any case, there are certain ideas.
The Lviv airport's Director Tetiana Romanovska said in a recent interview with the CFTS portal that Qatar Airways and other Arab giants have a number of demands, such as night parking, a specific frequency of flights, etc. Is the Kharkiv airport ready to meet these demands?
Unlike Lviv, we are a private airport and we have greater possibilities in this regard. We are less burdened by certain "rituals," so I am sure we will find a way to meet their demands.
What new destinations are currently the most promising from Kharkiv?
Discovery of Germany is important to us. Various cities: Berlin, Frankfurt, and Munich. We have been working on it for a long time. Wizz Air flies to Dortmund, but there are still large transfer hubs that can provide additional passenger traffic. We know that the flow of passenger traffic to Germany is quite high.
Scandinavian destinations, the Baltic States, and Norway are interesting. Routes to France are also interesting. We are working on this destination as well and we hope that the intergovernmental agreements that currently restrict flights to these destinations will change. Paris is a very interesting destination, and the need for it exists.
Spain is also a good destination. In particular, Barcelona, ​​to which SkyUp will begin flights from Kharkiv in May. Madrid is far away, and flights there will be quite expensive.
At a press conference on the launch of flights by the Ernest airline, the airline's head Chady El Tannir suggested that part of its passenger volume would be made up of passengers transferring to transatlantic flights in Rome and Milan. Do you know how transfers of passengers departing from/to Kharkiv are organized on routes?
The structure of the cost of tickets has changed slightly. Previously, passengers tried to buy round-trip tickets from the same airline because a single fare offered certain advantages. Today, given the fact that many offers on the market are "broken up" — for example, when several low-cost airlines connect on the same route — the ticket price no longer depends on the number of passenger transfers. You can buy tickets for different airlines and end up with the same cost.
Of course, it would be more convenient for a passenger to buy a ticket, and register in Kharkiv and then collect his luggage somewhere in Latin America. However, we believe that the possibility of transfers in Rome, using a low-cost carrier here and a more convenient company on the second route, will open new destinations to us. That includes routes to Latin America. We know that there is a certain level of demand for flights on this route. In this context, a transfer in Rome is the most convenient and the prices are comfortable. Canada and the United States are good routes, but there is competition for them. UIA performs flights to these countries (with transfers in Kyiv) and LOT, which flies from our airport twice a day, also handles them well (with transfers in Warsaw). Choices and comfortable ticket prices are already available there. On the other hand, I think that Latin American routes are interesting.
What do you think about development of domestic routes? SkyUp will operate the Kharkiv-Odesa flights in the summer. What are the other prospects?
There is currently none because we see no airline that can occupy this niche. On this, we are very much counting on SkyUp.
But it is only for the summer season...
Everything starts small. We have already tried to launch a route to Odesa. Paradoxically, there was little demand for it. This is despite the fact that it is not easy to get from Kharkiv to Odesa: the easiest option is to travel by air through Istanbul. Incredible but true.
Could ticket prices be the problem?
For example, it is cheaper to get to Kyiv by train, but all flights to Kyiv are full. The issue lies in the market segment.
Does the fact that the Kharkiv region is considered to be on frontline impose any restrictions on the airport's operations?
This affects airlines' sense of risk, so they consider this factor. The existence of a territory nearby where there is no peace has an effect. We have to convince carriers that we are safe. However, a feeling of well-being and calmness – which is actually true in in our city – is gradually being created thanks to certain actions by our country, particularly the Ukrainian Infrastructure Ministry and the Kharkiv regional administration. The creation of such an atmosphere helps airlines to make decisions. In addition, experts from OSCE missions, who often come here, help us to confirm the degree of security. They are happy to hold this conversation and they even participate in negotiations, during which it is important to explain the degree of risk, if any, to airlines.
How has the deterioration of relations with Russia affected the airport?
Direct passenger flights to the Russian Federation have been blocked and the number of passengers on indirect flights through Belarus is much lower. I think that a process is taking place in the society, as a result of which interest is being lost and relations with the Russian Federation are being restricted. Of course, this leads to a reduction in passenger traffic. To where have people begun flying? Have they begun flying to other destinations for work? I am not sure. The statistics is complicated. Yes, a sufficiently large number of people obtain work visas at the Polish Consulate. We know that, but Poland is not Ukrainians' only object of interest. I see that a lot of young people and students are moving to the West.
Our hangar will eventually become a terminal. The issue is the volume of passenger traffic that we will have by the time we decide to convert it.
In an interview with our publication a year ago, the airport's Commercial Director Vladyslav Illin said that if Kharkiv developed as a transfer hub (for transfers from international to domestic flights), it would make sense to convert the hangar to meet the needs of transfer passengers. However, the share of such passengers was less than 0.5% at that time. How do things stand now?
Previously, we had transfer passengers. Now, there is practically none. Although this issue is not yet on the agenda, our hangar will eventually become a terminal. The issue is the volume of passenger traffic that we will have by the time we decide to convert it. We are preparing for this process. Transfer passengers or passengers on direct flights will be handled in that terminal. Whether it will become a terminal for domestic flights or only for low-cost airlines depends on how the market develops.
What volume of passenger traffic do you expect in 2019?
I think that we will have a 20-25% growth this year. We are targeting 1.2 million passengers. We have set such a target for ourselves and I hope we will achieve this target. We expect the one-millionth passenger in the period of October-November.
How do you see the airport's development in the next five years: new infrastructure, new services, expansion plans?
This strategy depends on passenger traffic. We have a number of infrastructure tasks that we must solve. We are currently working on a parking system that no longer meets our needs in terms of logistics but not in terms of available space. We are currently installing new equipment with new services (for example, contactless payments). In addition, we want to involve Austrian designers in the design of a new scheme for development of the parking system this year.
The next stage is development of our aircraft repair base. We expect to begin implementing this project in the near future.
Your airport is quite close to residential districts. Does this cause any problems?
There were complaints, especially from people who illegally built houses near the airport. However, the fact is that location of an airport within a city always causes certain restrictions, and we also have those problems. We conducted research into both the noise and environmental effects and made changes to certain aircraft routes and the takeoff and landing conditions. Currently, there are no serious conflicts with residents.