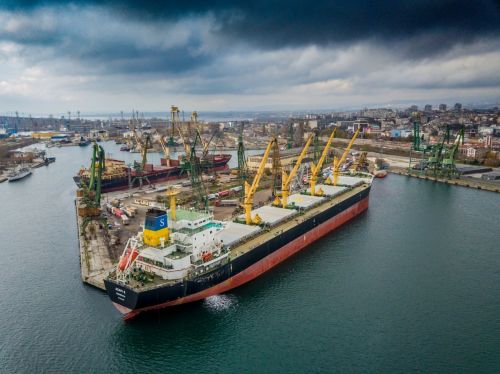 Ukraine is trying to rebuild the logistics for the export of grain with the support of its Western partners due to the Russian blockade of its ports and the threat to food security in entire regions of the world. The market did not know how to proceed 1-1.5 months ago. Today, Ukrainian grain is already being transshipped through the European Union's rail and port infrastructure. What solutions have already been found for grain exports, who has offered support to Ukraine, and under what conditions can the blockade of Ukrainian ports be lifted?
Grain dependence
Ukraine was the second-largest exporter of all types of grain crops, behind only the United States, in the past fiscal year. The main importers of Ukrainian wheat were Egypt, Indonesia, Morocco, and Pakistan, the main importers of Ukrainian corn were China, the Netherlands, and Egypt, and the main importers of Ukrainian sunflower oil were India, China, and the European Union. On average, Ukraine's share of agricultural exports to these markets is about 20-40%, but some countries are critically dependent on Ukraine for certain types of agricultural products. For example, Ukrainian sunflower oil accounts for 66% and 88% of sunflower-oil imports into China and the European Union, respectively.
For Ukraine, the export of agricultural products is a matter of earning foreign exchange and generating budget revenues, which is especially important in the context of the war and the collapse of the national economy. Ultimately, the size of the pensions and salaries that Ukraine can pay its citizens depends on this. For those regions of the world that depend on Ukrainian grain, it is a matter of food security. For the West, it is a new humanitarian threat in the form of another migration crisis and economic injections into regions that could face famine.
Ukraine's Minister of Agrarian Policy & Food Mykola Solskyi believes that the world will see in two months that there is no alternative to grain supplies from Ukraine. "I think that the world will begin to feel this acutely sometime in mid-July because many countries in North Africa, Arab countries, and countries in Southeast Asia are still consuming what they bought previously and the reserves they created. But they are all waiting for the new harvest," the minister said.
Blockade-lifting fairway
Since 90% of Ukraine's agricultural products were exported by sea before the war, the most effective way to ensure the export of grain and other products would be to lift the blockade of Ukrainian ports. Ukraine's President Volodymyr Zelenskyi recently announced that the export of 22 million tons of food from Ukrainian ports is currently being prevented by the blockade. According to him, there are various options to open the ports, including the military option. "Therefore, we are requesting the appropriate weapons from our partners," he said
An Estonian member of the European Parliament, Lieutenant General Riho Terras, believes that deployment of ships in the Black Sea by NATO and other European countries to lift the blockade of Ukrainian ports and protect commercial navigation would be a powerful deterrent. "I don't think that Russia will dare to attack NATO ships escorting civilian ships," he said.
Lithuanian Foreign Affairs Minister Gabrielius Landsbergis has proposed that Britain create a naval coalition to escort ships carrying grain from ports in Greater Odesa. "Time is very, very short. We are closing in on a new harvest and there is no other practical way of exporting the grain except through the Black Sea port of Odesa," The Guardian newspaper quoted the diplomat as saying. Landsbergis said that a naval escort operation – not run by NATO – could protect the grain ships through the Black Sea and past Russian warships. According to him, countries affected by the potential loss of grain, such as Egypt, could provide the necessary protection in addition to Britain. "This would be a non-military humanitarian mission and is not comparable with a no-fly zone," the Lithuanian minister said.
Meanwhile, the European Business Association has proposed that Ukraine appeal to the United Nations to consider the possibility of creating a Special Forbidden Zone, the use of the airspace above which will be temporarily banned and within which shipping will be suspended (except shipping on certain humanitarian routes) until the end of the Russian aggression. According to the association, the United Nations Security Council could allow its member states to use their air, sea, or land forces to create such a zone.
"This option requires the adoption of the relevant decision by the United Nations Security Council, where Russia illegally exercises veto power. There is also the question of suspension of Russia from voting in the United Nations Security Council. The mechanism is not simple, it is a two-stage mechanism, but it is realistic. It would take three or four months of intensive work," said Bohdan Ustymenko, director of the Ukrainian Institute of Maritime Law and Security.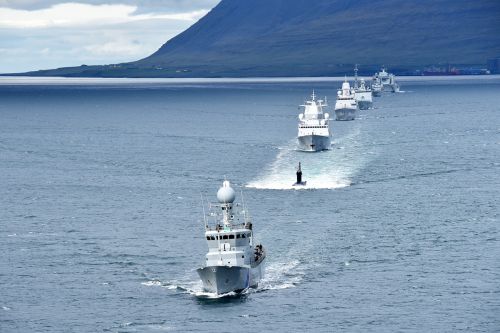 The Danube outlet
While its main ports remain closed, Ukraine is trying to rebuild its logistics by making the most of its available port facilities on River Danube and redirecting cargo to European countries. Danube ports accounted for a very insignificant part of Ukraine's total cargo transshipment volumes before the war. Out of the 152 million tons of cargo that Ukraine's ports handled in 2021, Danube ports accounted for just over 5 million tons. In particular, the Ust-Danube port handled 63,400 tons, the Reni port 1.3 million tons, and the Izmail port 4 million tons. However, these river ports still have excess capacity: Ust-Danube can handle 4 million tons per year, Reni about 10 million tons, and Izmail 7 million tons.
With the current blockade of Ukraine's main ports, part of the cargo flow from the country has gone to this region. According to the Ministry of Infrastructure, cargo transshipment there almost quadrupled in April this year, compared with February. "We handled about 850,000 tons of export and import goods in April, including 450,000 tons of agricultural goods. However, this is about 15% of the total turnover during peacetime," said Deputy Minister of Infrastructure Yurii Vaskov.
The ministry believes that the volume of cargo transshipment in Danube ports will be increased to 1 million tons per month. However, even this figure will still not exceed 10% of the peacetime cargo volume handled by all Ukrainian seaports. These ports currently account for 30% of all Ukrainian exports.
Cargo transshipment through the Danube region is now becoming more difficult due to overland logistics. Russian invading forces launched five rocket attacks on the road-rail bridge across the Dniester estuary, which connected Odesa with the Bilhorod-Dnistrovskyi district, during the period of April-May. The bridge has been closed due to significant damage, and it will take time to rebuild it. The Ukrainian Railways joint-stock company (Ukrzaliznytsia) has not commented on the current situation involving rail transport in this direction.
Meanwhile, another problem has recently emerged. A large number of ships heading to Ukraine's Danube ports, among other places, have piled up at the entrance to the Sulina arm of River Danube. The reason for the "traffic jam" is that Romania, which had not previously encountered such an influx of ships, is conducting the pilotage of vessels through the channel. "The situation has been going from bad to worse in the past four weeks. The Ukrainian side has made several proposals on how to speed up the pilotage of ships, including the use of tugs/pilots in those sections of the channel where it is possible and makes sense. But the administration of the channel is very conservative, and it seems that it is going to do nothing about it," said Andrii Sokolov, a representative of Tully Logistics. According to him, ships are waiting 10 days or more for pilotage as a result.
Neighborhood transshipment
Because its infrastructure capacity is currently very limited, Ukraine is actively looking for opportunities for transshipment of its cargoes through European ports. According to Andrii Isaev, a consultant with CFTS Consulting, almost all European ports can technically receive Ukrainian cargoes, but the farther a port is located from Ukraine's western borders, the more expensive the overland logistics. "Therefore, we need ports that are located as close to our western borders as possible. Romania and Bulgaria are the best options for us. The polish ports of Gdansk and Gdynia can also be good options. Next, we need to see what transport options will be offered to us. For the northwestern regions, Gdansk will be even preferable to Constanta," he said, adding that the new logistics will become at least 10% more expensive than the cost of cargoes. According to Ukrzaliznytsia board member Viacheslav Yeriomin, overland logistics providing access to European ports increase the cost of products by an average of EUR 100 per ton.
Given this fact, Ukrzaliznytsia's head Oleksandr Kamyshin believes that ports in the Baltic States could be an option. "These ports have always handled Russian cargoes that are very similar to ours – ore, coal, and grain. Russia has gradually redirected these cargoes to its ports and there are now large terminals on high waters that are not operating at full capacity in the Baltic countries. My understanding is that these ports are the right partners for us right now. Yes, this means that trains will have to change tracks twice, but it still leaves a margin for our cargo owners and, most importantly, it provides an opportunity to transport goods," he said.
A pilot route from Ukraine to Lithuania, which bypasses Belarus, has already been tested. According to Lithuanian Railways' CEO Egidijus Lazauskas, the delivery via this route paid off. Currently, trains carrying 1,500 tons of cargo to Lithuania are planned once a week.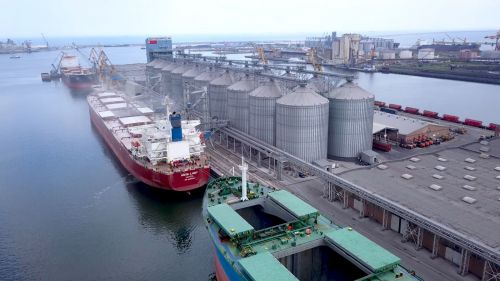 On the edge of the Black Sea
At a meeting with Ukrainian President Volodymyr Zelenskyi in late April, Bulgarian Prime Minister Kirill Petkov said that Bulgaria was ready to help Ukraine with grain exports. "Bulgaria will be absolutely happy to offer the port of Varna as a logistics hub, particularly for transshipment of flour and sunflower seeds and the grain that you cannot transship through your ports. We are ready to provide Varna as a central logistics hub for you," he said.
In addition, the Bulgarian port of Burgas is ready to receive Ukrainian cargoes. "Our port terminals are equipped for handling of grain and we have a good experience in handling such cargo. Of course, other Bulgarian ports are also a possibility for it. Grain is a traditionally exported commodity for Bulgaria so in terms of handling capacity a good number of the local port operators can provide the service," was said in the port of Burgas' comment to the CFTS. "Rail transportation needs to be organized through Romania. This logistic solution is currently studied by the multiple clients that have already contacted us for export Ukrainian grain. There is also the possibility that small vessels/barges are loaded at the still operating port Izmail and the grain is discharged at our terminal for accumulation a larger volume for dispatch".
However, the Bulgarian port has noted that it has contractual obligations to its regular customers and that its infrastructure is at the full disposal of these customers from about June to October. "Therefore, Ukrainian grain traders will either need to wait out till the local harvest season is done and they can exploit our than free facilities or find another commercial way around it in the next few weeks. Once this is sorted out, then the port capacity is a matter of good planning of the deliveries of cargo to the port and dispatching the accumulated lots," a representative of the port said.
Although included in the logistics chain for the transshipment of Ukrainian grain, the Romanian port of Constanta is generally not ready to handle significant additional cargo volumes. "The infrastructure [of European ports] is also insufficient for handling all our cargoes. We know that Constanta is now operating at full capacity specifically because of our cargoes. Gdansk is also overloaded," Deputy Minister of Infrastructure Mustafa Nayem said.
As for the capacities of the ports in Bulgaria and Romania, according to Ukrzaliznytsia's Deputy Director of Investment Operations Volodymyr Shemaev, 67.5 million tons of cargoes were handled in Constanta in 2021, including 25.2 million tons of grain. A year earlier, almost 22 million tons of grain cargo was handled there (significantly more than the volume at any Ukrainian port). The port can accommodate vessels with drafts of up to 16 meters.
The indicators of the Bulgarian port of Varna are much more modest. In general, the cargo turnover there has been about 3 million tons in recent years. It set a cargo-handling record of more than 4.1 million tons in 2013, including 3.6 million tons of grain. The port of Burgas handled a total of 2.7 million tons of cargo in 2021. Both Bulgarian ports can receive vessels with drafts of up to 11 meters. The areas of ​​covered warehouses are 84,200 square meters in the port of Varna and 60,700 square meters in the port of Burgas.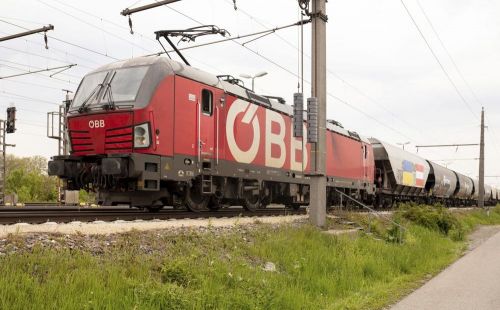 EU high waters
The listed ports definitely have some spare capacity to increase transshipment volumes by handling Ukrainian grain. However, as noted earlier, the ports are already facing limitations in terms of their infrastructure capacities. Therefore, Ukrainian exporters and their European partners have to develop routes for delivering grain by rail to ports in Western and Southern Europe. Potentially, Ukrainian grain cargoes can be transported by rail to ports in the North Sea basin (Hamburg, Bremen, Antwerp, and Rotterdam) and the Mediterranean basin (Trieste, Koper, and Rijeka).
Germany has offered its support on this issue, noting that a railway route could serve as an alternative solution for grain exports, although it requires a lot of effort and has limited capacity. Germany's Federal Transport Minister Volker Wissing has said that Deutsche Bahn, Germany's largest railway operator, has already begun transporting Ukrainian grain. DB Cargo, the cargo subsidiary of Deutsche Bahn, has launched a mechanism that will allow the transportation of agricultural products from Ukraine to ports in the North Sea and the Adriatic. According to German officials, DB Cargo is already delivering products on behalf of private grain exporters from Ukraine.
It has also been reported that CD Cargo, a Czech-based rail freight operator, has operated the first train carrying grain from Ukraine to the German port of Brake, which is on the Weser River between Bremen and Bremerhaven. From there, the grain consignment will be transported by sea to Egypt.
Austrian Federal Railways (ÖBB) is also joining the process. In addition to beginning deliveries of Ukrainian corn to consumers in Austria, the railway company is also facilitating the transportation of Ukrainian grain cargoes to Germany through Poland, Slovakia, and the Czech Republic. Rail Cargo Group, which is part of ÖBB, organized 30 grain trains from Ukraine in March-April, transporting 60,000 tons of grain in total. The trains are also going to the abovementioned port of Brake. The company plans to increase the transport volume in the future, although it has noted that there is neither a sufficient number of wagons nor the railway infrastructure capacity for this.