Last week I had an excellent opportunity to step back to my university time in luxury Hilton hotel. My wife may rest assured: it was not an exciting experience with two young student-girls, moreover, quite a serious event. VOХ-Ukraine invited me to speak at the symposium «Ukraine: Escape from Post-Soviet Legacy». There were lots of conferences and TV-interviews for me as a head of Centre for Transport Strategies, but taking part in academic talks – it was for the first time. Unlike my students' years in Kyiv-Mohyla Academy, I've even done small homework: prepared short presentation and made some conclusions. Some of them I would like to share with you.
As I remember from my university professors, the only thing, which is really important for a good dialogue is an accuracy in definitions. So my definition to the current situation in the transport sphere is very simple – it is an infrastructure trap. I mean, that for supporting the growth of Ukrainian economy we need substantial increment of expenses for infrastructure. And from other side, only GDP growth can accumulate money for infrastructure investments. We have close circle and have to find log-out from this situation.
A couple of words about the money for infrastructure development. The gap between fact and need looks dramatically: accumulated depreciation in transport reached 90%, and for the accelerated modernization of assets we need more than 4-5% of GDP. By the way, this figure is similar to the average terms in other developing countries of the world. But these are needs. In fact current capital expenditures are 19 times lower – $0,35 bln in 2014.
The most problem zone is railway. It is extremely important for our economy and requires more than $13 bln of investment by 2020. We have to find the decision immediately: Ukrainian railway is one-two years from technical collapse. Which also means collapse of the main eхport-oriented industries. The situation in other transport segments is not better but worst – like in roads. The troubles is that either state or private investors have not enough resources to avoid infrastructure trap on their own account. The only one decision is a public-private partnership. Unfortunately, it's still tabula rasa in Ukraine.
To avoid dramatizing the situation, let's come back to my university experience. Except the importance of definitions, I remember the second rule of my professors: avoid tautology. And other my students experience…well, I should call it bottlenecks problems.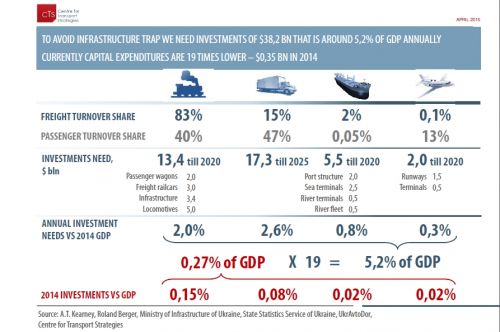 We have three variants of the situation's development. Actually, I have shown four variants but first one – public ownership – in fact is conversation of current status quo. On my humble opinion – it's way to stagnation. Three other variants –concession, rent and privatization are not Ukrainian know-how – they were used and are using in different countries of the world with various success. What to choose? There is no a unique decision – every segment, moreover, every company may have its unique format. As for me, the main question is in the aim: what we need more – money in budget right now or development in the nearest future. If the answer is money – we may choose privatization. If we talk about development – the instruments of concession is more useful.
But the main issue is of another kind: which are the main bottlenecks on the way of listed variants realization into real projects? I have three answers: first one is lack of comprehensive strategy of transport sector. Maybe, this point sounds like matter of course but extremely important for transport system, which works like the ring of one change. Intermodality is may be the most popular and useful word in different transport international conferences. Ukraine needs a new general vision of role and priorities for transport sector in economy – current documents on these issues are not pressing after Crimea's annexing and war in Donbass.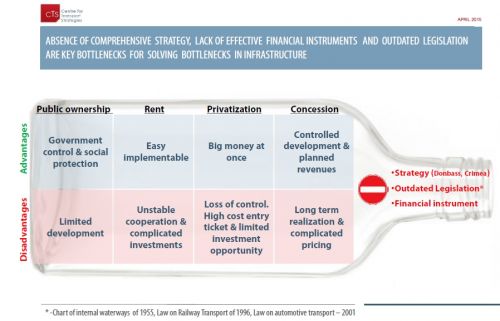 Second point – legislation. Some of the main laws in transport segment were passed in other century (Law on railway in Ukraine of 1996) and even in other country (Chart of internal waterways in USSR of 1955). More or less modern is the only Law on the See port, entering into force in 2013. The work has already started: new law on internal waterways and railways are the points of discussion in Ministry of Infrastructure. Hope, that the parliament will not be the bottleneck for infrastructure bottleneck solving.
And last but not least – financial instruments. Transport projects need hundreds of millions dollars for 5-10 years – it's mission impossible for Ukrainian banking system, especially in current situation. International finance institutes, like EBRD or WB, can't be the only one source of infrastructure project financing. We have to find alternative ways.
In conclusion - the most important. Actually, it makes no difference, who invests in infrastructure project: private investor or state. Eventually all the bills will be paid by the final consumers – passenger or cargo owner. I hope, their payment capacity will be enough for our reforming activity. Don't forget about this.