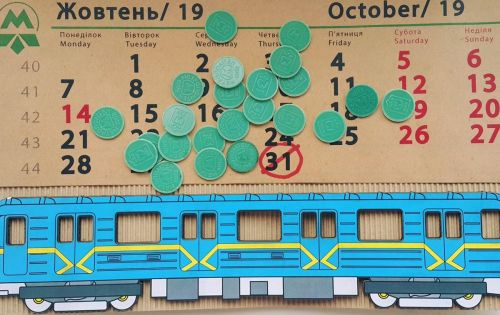 The tokens that are familiar to everyone will finally go out of circulation in the Kyiv subway on April 1. If anyone has stocked up on tokens, we recommend using them in the remaining month. However, the subway has done everything possible to ensure that such people are as few as possible: by selling only one token per person and actively promoting reusable plastic cards, the Kyiv subway has ensured that only 15% of passengers (about 200,000 trips per day) were using tokens as a means of payment for rides in the subway by the end of 2019.
What will happen to tokens?
Tokens can remain as souvenirs after March 31 because for Kyiv residents and visitors to the city, they have been one of the symbols of the Ukrainian capital for many years. The tokens remaining in the subway's possession will be counted, packed, and sealed. After that, the company will re-categorize them from a means of payment to "plastic" and put them up for sale on the ProZorro electronic auction platform. By the way, 1.5 million old-style tokens are currently stored in the Kyiv subway's warehouses. They too can be sold as soon as they cease to be considered a means of payment (for the subway, they remain a means of payment despite the fact that they have been withdrawn from circulation).
What should passengers do with subway cards with fixed numbers of trips?
Reloadable subway cards with fixed numbers of trips will be valid until March 31, 2021. However, they can only be reloaded only until March 31, 2020. That is, if passengers want to protect themselves against possible crashes of the yet-to-be perfect Kyiv Smart Card system, it makes sense to replenish the "green" subway card by the end of March and use it throughout the year. This is not an option for daily trips because they will be used up quickly, since they cannot be replenished for more than 100 trips (a maximum of 50 trips per day). However, it is perfect as a backup option.
Later, passengers can return the subway cards with fixed numbers of trips to the cashier. If the cards are in working condition, the subway will pay a compensation of UAH 15 each for them. However, compensation will not be paid for the unused number of trips on the card.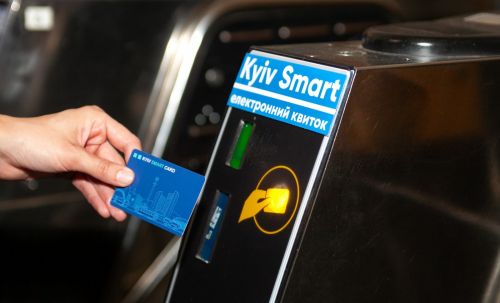 The Kyiv Smart Card: where, how, and how much
The Kyiv Smart Card will replace the payment methods mentioned above. Despite the fact that the system often crashes (prompting complaints from Kyiv residents), there are few alternatives to it (at least for those who use the subway regularly).
This card can be bought for UAH 50 at the following subway stations.
Red Line: Akademgorodok (exit to Palladin Avenue and Yefremova Street), Zhytomyrska, Beresteiska, Universytet, Teatralna, Khreschatyk, Arsenalna, Dnipro, Hidropark, Darnytsia, Lisova (exit to the Darynok shopping center).
Blue Line: Heroiv Dnipra, Pochaina (exit to Stepan Bandera Avenue), Taras Shevchenko, Maidan Nezalezhnosti, Lva Tolstova Square, Palats Ukrainy, Lybidska, Holosiivska, Exhibition Center, and Teremki.
Green Line: Syrets, Osokorki, Kharkivska.
The Kyiv Smart Card can also be purchased at T-Kiosks.
Where to replenish the Kyiv Smart Card:
- through the Kyiv Smart City application (or on the application's website) and Privat24 self-service bank terminals;
- in the Kyiv resident's personal account;
- at the e-ticket, PrivatBank, IBox, and 2click self-service terminals;
- through the KyivPayBot or KyivMetroBot bots on Facebook or Telegram.
Unfortunately, it is not yet possible to use the card in electronic form. Passengers still have to carry the plastic with them, at least for now.
The Kyiv Smart Card retains the main advantage of the subway cards with fixed numbers of trips – it allows passengers to save on trips depending on replenishment amounts. The subway fare can be reduced from the usual UAH 8 to UAH 6.5 per trip. An additional advantage of this card is that it can be used not only in the subway, but also in other modes of municipal transport equipped with validators.
Having gone through all these procedures, passengers will only have to hope that the GIOTs utility company, which has been selected as the electronic ticket operator in Kyiv, will be able to ensure smooth operation of the system.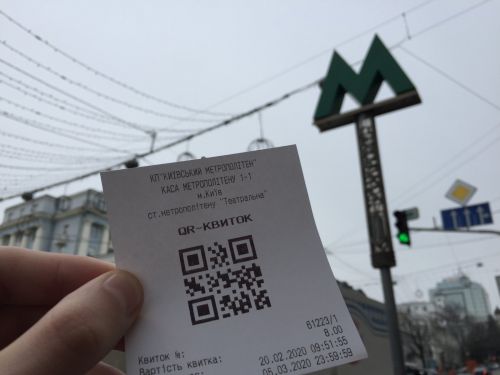 What can passengers do if they need to pay for a single trip? Is it necessary to buy a card for this?
Passengers do not need to buy a card. The first option is to buy a paper ticket with a QR code at the ticket office or automatic ticket machines. However, such tickets are not available at all subway stations. They can be bought at the following subway stations:
- the ticket offices at the Khreschatyk, Teatralna, Maidan Nezalezhnosti, Akademgorodok, Lisova, Arsenalna, Teremki, Vydubychi, Syrets, and Pochaina subway stations;
- from terminals at the Khreschatyk, Maidan Nezalezhnosti, Zoloti Vorota, Palats Sportu, and Akademgorodok subway stations;
- at T-Kiosks.
Passengers departing from subway stations that do not sell tickets with the QR code still have two options: any bank card with contactless payment (PayPass, payWave) or a smartphone (tablet, smartwatch) with NFC (in other words, with the Google Pay or Apple Pay payment applications and bank cards tied to them). The payment procedure is the same as the procedure for cashless payments at a supermarket checkout counter, for example.
This is completely familiar to many people, but it can be a problem for retirees or people from the hinterland. Therefore, the Kyiv subway's "disruption" will be "slightly" incomplete without installation of automatic machines for selling one-time paper tickets at all subway stations.
Can passengers buy monthly passes?
The Kyiv municipal administration has announced that it will be possible to purchase electronic monthly passes from April 1. However, this is still only a draft decision that is still under discussion. As the Kyiv municipal administration told the CFTS portal, the Kyiv Smart Card is also expected to be the physical carrier for these electronic monthly passes.
These electronic monthly passes will be valid for 46, 62, 92, or 124 trips in all modes of urban public transport (except minibuses). For passengers that use only the subway and ride it an average of twice per day on weekdays, a card for 46 trips is suitable. For passengers that use the subway plus trolleybuses/trams/buses, a card for 92 trips is suitable. The main advantage of the electronic monthly pass is that the average cost of a trip is UAH 6.25 (UAH 0.25 lower than the Kyiv Smart Card after maximum replenishment). However, unused trips will be written off at the end of the month.
Unlimited monthly cards worth UAH 1,300, which are designed for corporate clients, will also be on sale.
Visitors to the city will be offered another card – a tourist pass with an unlimited number of trips in any municipal mode of transport for 24, 48, and 72 hours from the moment of activation. They will cost UAH 100, UAH 150, and UAH 200, respectively.
We still have a few questions that the Kyiv subway and the Kyiv municipal administration have not yet answered: how and where will passengers be able to buy them and is it true that the Kyiv Smart Card will be their only carrier?
In addition, the Kyiv subway's ticket offices do not yet have details of the new system. They have a brief answer to our list of questions: "We do not yet know anything about them." We hope that the situation will become clearer in the near future.