A special depot for servicing and repairing Intercity and Intercity+ high-speed trains was built in 2012. The CFTS portal visits the Darnytsia TPS to learn how trains are serviced, repaired, and washed.
The Ukrainian High-Speed Railway ​​Company's Technical Director Serhii Skiba welcomed us to TPS Darnytsia, the service center for the high-speed trains of the Ukrainian Railways joint-stock company (JSC Ukrzaliznytsia).
TPS Darnytsia performs three types of operations: technical maintenance, routine repair, and overhaul of trains. In total, TPS Darnytsia employs 540 people, including 160 stewards, 120 train drivers and assistant drivers, and 100 service personnel. In addition, 48 employees of the Hyundai Rotem company and 35 employees of the Kryukov Railcar Building Works work at the service center.
Twenty people prepare trains for trips every day and night. The peak hours are from 00:00 to 06:00 and from 12:00 to 18:00.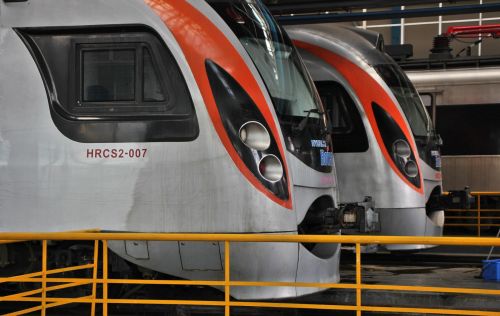 Trains undergo technical maintenance before every trip. Employees of the Ukrainian High-Speed Railway ​​Company equip trains with water and sand, empty effluent tanks, etc. A train needs sand to move from standstill in wet weather and for better braking. A train consists of nine wagons, each of which has two containers loaded with 16 kilograms of sand. This is sufficient for 1,000 kilometers, but not all the sand is always used.
"You will not find such a thing even in the sea," Skiba said, showing us large granular sand that does not stick together when it comes into contact with water.
Unlike ordinary trains, water from a well is used, and it has a certificate from the Sanitary and Epidemiological Station. "This means that if a bar runs out of water, you can drink this water and nothing will happen," Skiba said. "However, it is better not to take that risk in ordinary trains because the water in the tap is technical."
The Ukrainian High-Speed Railway ​​Company washes the exteriors of trains and outsources the cleaning of their interiors. According to Skiba, it is economically more beneficial to outsource such operations to another company than to purchase the necessary cleaning equipment and hire separate cleaning personnel. "This allows us to concentrate on development of our core business and reduce our costs," he said.
While the High-Speed Rail ​​Company's specialists are busy doing their work, representatives of the Hyundai Rotem company and the Kryukov Railcar Building Works are performing technical maintenance – checking the performance of doors, pantographs, air conditioners, and the train's other vital support systems.
Routine train repairs (after 500,000 kilometers) and overhauls (after 1 million kilometers, a distance that a train covers in two years on average) are also performed by the service personnel of Hyundai Rotem and the Kryukov Railcar Building Works. "We are more of an operating company while they service rolling stock," Skiba said.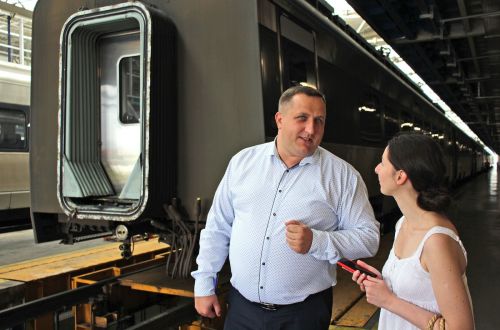 Additional work – such as mitigation of the aftermath of traffic accidents – can also be performed, for example, when a train hits a car or animal. In that case, the train remains at TPS Darnytsia for 2-3 days for repair of its bodywork.
"Recently, there was an unpleasant case in which a Mercedes car drove onto a railway crossing and our electric train was unable to avoid collision despite sounding its horn and deploying emergency braking. Here are its remains," Skiba said, pointing to a pile of metal on the ground.
The new workshop
To the left of the main building is a large metal structure that is overgrown with grass. Construction of a third workshop for overhaul of trains was planned during the presidency of Viktor Yanukovych. However, only 30% of the construction work has been performed despite 100% investment.
Ukrzaliznytsia's head Yevhen Kravtsov announced in October 2017 that he intended to resume the construction of the workshop. According to Skiba, the issue of allocation of funds for financing the construction work has not yet been resolved, but the construction work could resume as early as January 1, 2020.
The new workshop will allow Ukrzaliznytsia to shorten train repair time and significantly reduce costs. "The overhaul cycle for a single train is currently about 60 days. The new workshop is expected to have two tracks, which will enable us to repair two trains in 10 days. In addition, we will be able to afford to take rolling stock from neighboring depots because repair of our 16 units will take 160 days out of one year, but the workshop also needs to operate during the remaining period of the year. This will allow us to save about UAH 50 million per year," Skiba said.
The workshop for heavy repair works and repair of bogies
We went down into the inspection pit to view the underside of a train, which weighs about 500 tons.
At depots for conventional passenger trains, wagons are lifted up to repair their bogies. However, at TPS Darnytsia, bogies are lowered into the inspection pit. "This operation takes 12-24 hours under normal conditions, but we can change two bogies in two hours," Skiba said, explaining the advantages of the pit inspection system. A train's undercar equipment (bogies, traction engines, and others) is repaired after every 1 million kilometers (180 pieces per year).
"This is the workshop for heavy repairs," Skiba said, showing me a small room. Traction engines etc. are repaired in this workshop. All the parts for Hyundai Rotem trains come from South Korea.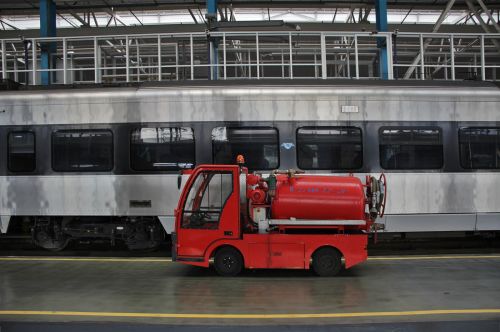 "We can learn their language," Skiba said, pointing to large wooden boxes with inscriptions in the Korean and Ukrainian languages.
The two hoisting mechanisms in the workshop help to speed up repairs. All the equipment was built and commissioned in 2012, when the South Korean trains were purchased in preparation for the 2012 European football championship.
Wheel turning
"This is the only person that turns high-speed trains' wheelsets at TPS Darnytsia," Skiba said, introducing us to Anatolii.
When a train runs over small pebbles on rails or passes through "curved" sections of tracks, it comes under a strong mechanical load that damages the surface of its wheelsets, with chips, dents, and chatter marks appearing on them. To make the surface smooth again, part of the metal is shaved off on a special machine, which is not available anywhere else in Ukraine. The result is very sharp metal shavings that are similar to "pasta," which are then sold for scrap. The wheels on a wagon can be turned in in 5 hours, thanks to such equipment. Therefore, other depots often come here to turn wheels. Such measures allow extension of the lifespan of wheelsets.
"Which do you think is harder– a wheel or a rail?" Skiba asked. We replied that the rail was harder, but it turned out that the wheel is harder.
The washing complex
"The washing of a train's exterior is a very important stage in its preparation for a trip because a passenger begins evaluating the quality of services from the outside," Skiba said.
An automatic train washer is very similar to a car wash, only several times larger. According to Skiba, all the equipment in the train washer was supplied and installed by a Finnish company back in 2012. This company also performs technical maintenance of the train washer.
The washing of a train consists of several stages. "The train is first wetted and a special detergent is sprayed on it to soften the dirt. Brushes then come into operation. The train is rinsed and dried at the very end. Everything takes 3-5 minutes," Skiba said.
There is only one such complex in Ukraine. Trains are partly washed manually in other depots, firstly because this type of system is expensive and secondly because it is not efficient: old-style trains have ribbed outer surfaces, and an automatic train washer will not be able to wash them properly. It is much easier to wash high-speed trains because they have smooth and streamlined bodies.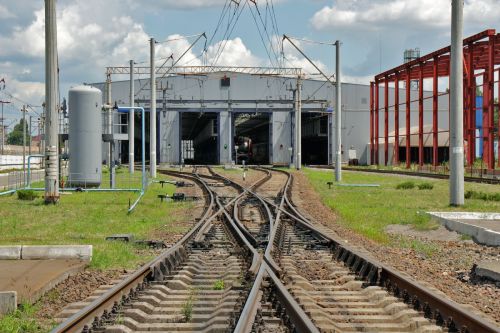 Skoda Trains
"As you can see, Skoda electric trains do not lie under a fence. They stand on tracks waiting for repairs," Skiba said, pointing to double-decker trains.
Now, trains need major repairs. The Ukrainian High-Speed Railway Company cannot do this on its own. Difficulties have arisen as a result, and it is necessary to find a company that will do it. The Ukrainian High-Speed Railway Company has announced an international tender. According to Skiba, the company is waiting for offers from companies with experience in performing such work. The Ukrainian High-Speed Railway Company is hoping that the trains will soon resume operation on the routes that passengers love so much.