Today's world is impossible without technologies, and they change very quickly. It's often a surprise for people to hear that FlixBus at its core is an IT company and does not own buses. To be more specific, FlixBus is created on the intersection of tech start-up, ecommerce platform and transportation company. Such a unique set of characteristics allowed the company, which was founded in Germany only in 2013, become the largest network of intercity buses in Europe just in few years, and now to perform daily 350.000 daily connections in 29 countries of the world.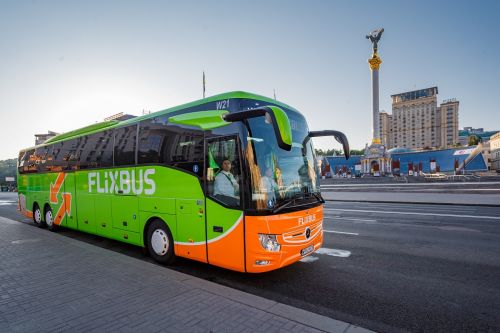 This success is brought by everyday efforts not only of FlixBus, but also local bus carriers – companies that usually operate on specific markets already for years and know very well local specifics. FlixBus business model was built in close cooperation with them. The carriers who work with FlixBus are called bus partners, and this term is used for a reason – they are full "partners" in the business of FlixBus and share the successes and risks of the company. It is also very common they share their knowledge and experiences regarding designing new routes by FlixBus network planning team.
Division of responsibility
The FlixBus team deals not only with already mentioned above network planning but also customer service, quality management, marketing and sales, as well as pricing, business development and technology. Therefore, cooperating with FlixBus, the bus partners gets rid of responsibility of one very important issue nowadays – attracting and retaining customers.
The local bus partners are responsible for day-to-day operations and a fleet of buses that meet the standards of comfort and safety approved by FlixBus. Being a part of the global green network, our bus partners can increase their profits and grow in the long run with the strongest brand of FlixBus. Thus, innovation, entrepreneurial spirit and a strong international brand work hand in hand with the experience and quality of local small and medium businesses.
In a certain way FlixBus "upgrades" traditional bus carrier, allowing it access the market of long-distance and international transportation.
Partner selection
FlixBus is open for partnership and is ready to start a dialogue with any local bus carrier who wants to cooperate – on large scale but also for a single route test shots with possibility to extension if the partner is satisfied. So what is important to start the process of cooperation:
First, FlixBus representatives evaluate the routes that potential partner already operates, whether they are suitable for FlixBus network
Then, new potential lines are discussed, in which FlixBus would be interested in
And, of course, bus fleet of the potential partner is very important for FlixBus – whether the buses meet our company's standards or what is required to be done in order to adjust it.
FlixBus desired fleet standards include: highest safety level of the bus, trained and professional drivers, comfortable legroom between the seats (minimum 76 cm), air condition, wi-fi and toilet onboard, at least 1 power socket for each two seats, new and eco-friendly bus fleet.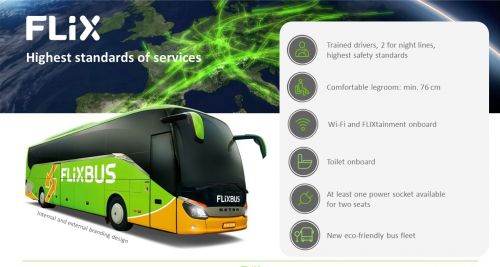 Unified standards for all bus partners allow us to offer similar quality of services to our customers in every country. Each line which we launch with our partner is our joint business with him. And we both are interested in making these lines work efficiently, so the passengers get satisfied and buy tickets with us again.
We are aware of the fact that there are only few carriers in Ukraine that operate on new buses, so we are discussing the possibility of developing the fleet together and supporting partners with that until they are able to purchase or lease new buses after some time.
Besides the possibility for many small carriers to enter bus transport market under a strong brand with modern technology, our bus partners may keep a part of their business independent of FlixBus.
Profits for the country and local business
Entering the market of a new country, FlixBus helps local carriers to develop and supports the development of the whole bus transportation market in the country. Various related businesses start developing around the bus market, like companies which are foiling, washing and repairing the buses or maintain bus toilets.
We pay all necessary taxes to the local budget and create new jobs in the country we are operating, and Ukraine is not an exception. For example, in Poland during 2018 bus partners of FlixBus have driven 33 million kilometers, and the local economy received more than 10 million euros of taxes and fees.
Want to know more - feel free to contact FlixBus business development team in Ukraine.