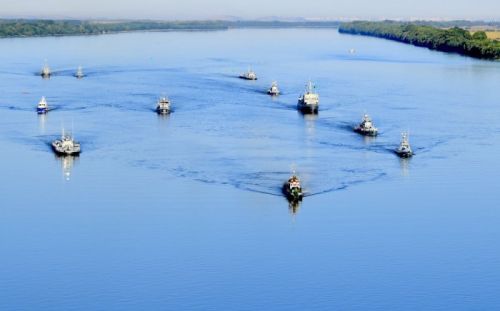 The Ukrainian Navy plans to create a riverine flotilla to tighten control over the northern part of River Dnipro within Ukraine and later along the entire length of Ukraine's main waterway. The first division of the riverine flotilla has already been created.
Vice Admiral Oleksii Neizhpapa, the Commander of the Ukrainian Naval Forces, announced this to the Army Inform publication, the CFTS portal reports.
"The situation itself dictated new requirements and forced us to look not only at the river arteries in the south but also in the north of our country. Therefore, at the initiative and with the support of the Land Forces Command, we have jointly created a naval division consisting of river boats in the north of River Dnipro – Ukraine's main logistical artery – which we cannot afford to lose," he said.
According to him, the creation of the first riverine naval division began in March. To form a combat unit, part of the river fleet was transferred to the military. Ordinary river boats have been armed and they now belong to the Ukrainian Navy. Sailors are saying that these vessels are performing well on rivers even though they are not new.
The division that has already been created is subordinated to the Kyiv Defense Forces to ensure support for the forces operating in the riverine operational areas near River Dnipro.
For reference, he said that Belarus has a riverine division in Pinsk and a base near the border with Ukraine. These forces consist of 19 naval vessels.
"The enemy is currently in the south of River Dnipro, and we must have the appropriate forces and means to confront the enemy on our main waterway. We will continue to increase our efforts not only in this area but also along the entire River Dnipro by building new boats and obtaining boats from our foreign partners. I hope that a flotilla of river boats consisting of several divisions located in various cities will appear on River Dnipro in the future," said Neizhpapa.