Vyacheslav Feklin works as a CEO of General Electric office in Ukraine from the end of 2013. This February his company signed 1-billion dollar contract with Ukrzaliznytsia, national railway carrier. It is the largest deal of GE in Ukraine. But US manufacturer entered the Ukranian market much earlier and the first client was private company. In 2013 General Electric sold the locomotive TE33A to PJSC Ivano-Frankivskcement that has a license for access to main railways of Ukrzaliznytsia. PJSC Ivano-Frankivskcement managers say that they offered to Ukrzaliznytsia to see and to appreciate the potential of the new locomotive but it refused. So we start our interview with Vyacheslav Feklin from the history of relations between GE and UZ.
Could you share some details about the history of your agreement with Ukrainian Railways?
We began actively working together with Ukrainian Railways in 2016, when we delivered a test locomotive for evaluation. It earned very high marks after three months in operation. In October 2017 we began a more intense phase of discussion. Over the next five months we spent 8-9 hours a day — practically seven days a week — in discussions with Ukrainian Railways and Ukreximbank. On the one hand, five months may seem like a long time, but on the other hand when you're looking to cooperate on a joint long-term project, it's quite a brief period. This accomplishment was made possible by the trust and support of many stakeholders in Ukraine, including President Poroshenko, Prime Minister Groysman, and especially Minister of Infrastructure Volodymyr Omelyan, who believed in the project from the very beginning.
You said that you began actively negotiating with Ukrainian Railways in 2016. Were you involved in any discussions before that?
We first began talking in 2015. They wanted to learn more about the latest technologies on the global market. At that time, Alexander Zavgorodny was heading Ukrainian Railways and he visited our locomotive factory in Pennsylvania. We continued our discussions, and we successfully concluded the framework agreement with Yevgen Kravtsov's team.
What was President Petro Poroshenko's role in the contract? In summer 2017 he met with U.S. President Donald Trump and they said our "relationship should become more practical."
We met a few times with both President Petro Poroshenko and Prime Minister Vladimir Groysman. These meetings were important because they demonstrated to us that the leadership of the country had the political will to continue the reform process, including of Ukrainian Railways. That was an important signal to GE and to all global companies that Ukraine has created favorable conditions for foreign investment.
So was the agreement due to Yevgen Kravtsov personally or due to "political will"?
There was a combination of factors. Undoubtedly, the project was only possible due to the hard work of Kravtsov's team focused on improving Ukrainian Railways' technology and business performance. GE also played a role, as we were able to offer a solution that met their requirements. At the same time, the concrete steps taken by the Ukrainian government to set up a positive business environment were a key factor in executing the project.
In 2013, GE sold a locomotive to Ivano-Frankivskcement. Why was your first entry into the Ukrainian rail market with a private company, when Ukrainian Railways would be more attractive in terms of sales volume?
Ukrainian Railways is a large national company whose activities have a major impact on the country's economy. For a business at that scale, all decisions must pass through a long approval process. In this regard, private companies can act more quickly.
Related The Kazakh American: How General Electric's Locomotive Works In Subcarpathia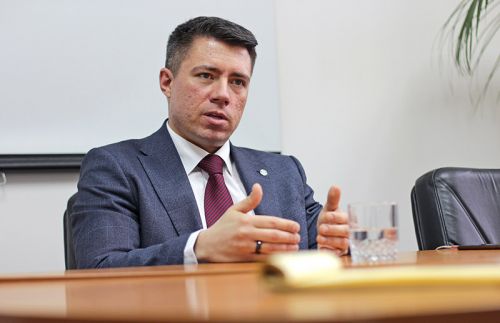 Why did you specifically choose the Kryukov plant as your localization partner?
Choosing a localization partner is a critical decision because our reputation stands behind the final product. Our team spent a lot of time in Ukraine visiting a variety of manufacturing facilities… the Kryukov plant is in very good condition. That's why we preliminarily selected the site to localize production. We will of course need to invest in developing their expertise in producing diesel locomotives. In terms of capital investment, we are at the final stage of negotiations now. I can only say that it will be a joint investment.
What specific components and processes will you localize?
The agreement that we reached defines a 10% localization level for the project's initial phase—the first 30 locomotives—which will include final assembly as well as installing a number of Ukrainian components, such as radio and signaling systems.
You mentioned final assembly, so does localization just mean screwing on wheel sets?
No. It's a more comprehensive approach that requires particular expertise. We're committed to making sure that our partner will be fully prepared to assemble locomotives with more local components as their volume increases.
According to the contract, you plan to increase the level of localization to 40%. What's the timeline?
We're working on the roadmap right now. In order to maximize local content, we first have to qualify suppliers and comprehensively test their components. We wouldn't want to have to repair a new locomotive after a couple months because a part broke down.
Why was the maximum level of localization set at 40%, when in your contract with India, for example, it was 70%?
We have to find the right balance between localization on the one hand and quality and delivery schedules on the other. We believe 40% is an optimal target. It's also important to note that in many similar projects in other countries we began at a level of 0% localization, whereas in Ukraine the very first locomotives will be 10% localized. In India, GE has 21 production facilities as well as a network of over 5,000 suppliers. Each year, we purchase more than $1 billion in local equipment and components. We will certainly try to reach those kinds of volumes in Ukraine, but it's still premature to have that discussion.
You have a factory in Kazakhstan that produces locomotives both for the local market as well as for export. Will your project here only target the domestic market?
We're definitely looking at opportunities to export our production in Ukraine. The first step will be looking at using Ukrainian-made components in GE's global factories. We have already identified some local manufacturers that we think could join our global supply chain.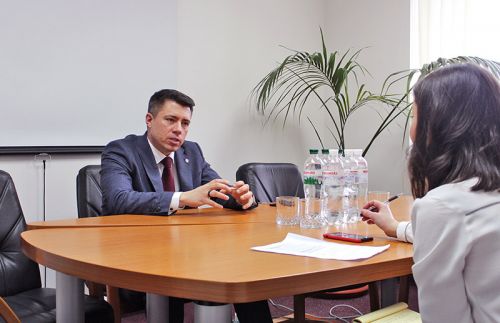 According to the agreement, you also plan to modernize up to 75 locomotives. Do you already know which ones will be renovated?
We're currently evaluating the potential to modernize 2M62 and 2TE10 diesel electric locomotives, but of course the final decision would be made by our partner, Ukrainian Railways.
What benefits do your locomotives have versus Ukrainian Railways' current fleet?
The TE33A Evolution-series locomotive can save up to 25% in fuel expenses and 80% in oil costs. On average, the TE33A requires maintenance only once every three months versus once every three days for Ukrainian Railways' existing diesel fleet. You can imagine the value that brings in terms of asset availability. In addition, one TE33A locomotive can replace a twin-section 2TE10, doing the same amount of work. That will further allow Ukrainian Railways to lower cost and improve its business performance.
There's a lot of discussion right now in Ukraine about allowing access for private traction on the national rail network. In your opinion, which model is more effective?
Substance should always take precedence over form. Private traction is one way to organize a rail system. We work in over 180 countries and each country has its own approach. We've seen very successful systems based on both private and national rail operators.
Have you been talking to private rail companies in Ukraine?
Yes, but at the present time we have no concrete agreements. Given the current environment, we have seen interest from logistics, metals, and agriculture companies in owning their own locomotives. I've heard that Ukrainian Railways has already proposed some new approaches for private companies to access to the rail network.
How many locomotives could you deliver if the market was opened for private rail operators?
Like any business, GE is always interested in increasing orders, but it's important to take a responsible approach. We're committed to always following through on our promises. Before agreeing to a large order, we would have to review our existing manufacturing load and delivery schedule.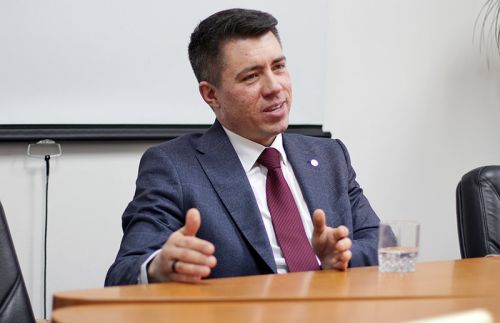 How long has GE been working in Ukraine?
We'll soon be celebrating our 100th anniversary in Ukraine. We began working here in the 1920s, when Ukraine was part of the Soviet Union. Today, we're executing projects across nearly all of the country's key industries, including healthcare, oil & gas, power, renewable energy, and, of course, transportation.
In your opinion, do you think it's become easier to work in Ukraine in recent years?
Ukraine is now undertaking a number of significant steps that are improving the business climate. At the macroeconomic level, that includes fiscal policy, healthcare reform, and the work being done by the National Investment Council and UkraineInvest. Overall, this is a major transformation.
In your opinion, which emerging technologies will have the biggest effect on the rail industry?
The most important trend that we see in the industry today is deploying digital solutions to unlock additional industrial productivity. And GE is helping lead the way. We offer a wide range of digital solutions for the transportation industry. For example, GE's Trip Optimizer software is a type of cruise control for locomotives, which at certain speeds takes over control to optimize throttle and braking performance. It can deliver 3-17% in fuel savings, with a corresponding decrease in emissions. It also helps limit the risk of human error.
There's talk in the media that GE is looking at selling GE Transportation. How will this affect your existing contracts?
GE's management decided last year to review the company's portfolio at a global level, including considering various options for GE Transportation. At this time, no concrete decision has been announced. This is a careful, deliberate process. Under any scenario, GE is committed to positioning the business for long-term success. Our top priority is always fulfilling our promises to our customers, including Ukrainian Railways. GE Transportation has 9,000 employees, a 100-year history, and an installed base of 20,000 locomotives. There is no question the business will continue to be a major player and a global leader in the transportation industry for many years to come.
When do you expect the decision to be made?
The company has not announced a concrete decision or deadline at this time.
What are GE's future plans in Ukraine?
Ukraine is a strategic market for us. Our project with Ukrainian Railways is the largest deal we've ever signed here. But we're also growing our business in a number of other areas. For example, the recently launched SkyUp airlines just ordered five Boeing 737 MAX aircraft that will be powered by engines featuring GE technology. We're also supplying composite propeller systems for Antonov's new airplane and we hope to further expand our cooperation going forward. In energy, we're working on projects in both traditional power generation as well as in renewables. GE is proud of our long-term partnership with Ukraine, and we look forward to further strengthening our cooperation in the years ahead.