"We do not start to fly without demand," – says Rene Koinzack, Lufthansa Group General Manager for Ukraine, Armenia, Belarus, Georgia, Azerbaijan and Turkmenistan. According to his logic, there is a demand for new flights in Ukraine, because this year Lufthansa Group have already extent its presence in our country. On March, SWISS returned to Boryspil airport. For October, the Group prepared another piece of news – launching flights between Brussels and Kyiv as well as entering of Brussels Airlines to Ukraine. On the other hand, Lufthansa Group showed excellent results in finance and in passenger numbers. To clarify these aspects, growth in Ukraine and global success, we met in Kyiv with Mr. Koinzack and Dr. Stefan Kreuzpaintner, Vice President Sales EMEA (Europe, Middle East, and Africa) of Lufthansa Group.
Last year Lufthansa Group has shown the record figures in finance and in passenger numbers. What were the main reasons 0f that?
Stefan Kreuzpaintner: The answer dates back to 2014. That year we started a new strategic course in the Lufthansa Group. That means that we built up Eurowings Group for point-to-point segment. In four years, we became the third biggest point-to-point airline in Europe. Of course, thanks to the integration of 77 airplanes we acquired from Air Berlin. We see that it helped to cover the destinations unserved in the past and to increase our market share. That is one pillar of our strategy.
On the other side, there are premium airlines; we invested heavily in our product and in our services during last four years. We improved our fleet by new seats in our first, business, premium economy and economy classes and by making service of Lufthansa, Austrian and SWISS much better.
At the same time, we decreased our unit costs by 1.8% last year. All these things together created a successful situation and ended up into record of 2017. I think that the record figure of 130 million passengers also demonstrates and underlines that our strategy was right, and our customers appreciated it.
You have just mentioned about cost reduction by 1.8%. I consider that this figure is small for such big airline group like Lufthansa, isn't it?
S.K.: It depends on point of view. One can say that such figure is small but it is quite big for the airline group with more than 700 airplanes.
In what way did you reach this cost reduction? By some unification of processes or by job cuts?
S.K.: No, there were no job cuts. Just in opposite, we increased our Lufthansa Group staff by 8 thousand people this year. On the other hand, we reduced costs by some unifications or by implementing some know-hows. For example, we made some moves to improve the efficiency of our fleet. In 2016, we introduced a new type of aircraft into our fleet – Bombardier C Series Now SWISS, which is the part of the Lufthansa Group, has 24 airplanes of this family. These airplanes have the new technologies that also reduce our costs. Moreover, the new fleet also contributes to saving costs.
What figures does the Group intend to reach this year?
S.K.: Our adjusted EBIT forecast is quietly below that of 2017, which was a record year, taking into consideration that we will have to pay much higher costs for fuel. To reach a result, which will be slightly lower than last-year, is an achievable goal. As for passenger numbers, we usually do not publish our forecasts due to competition.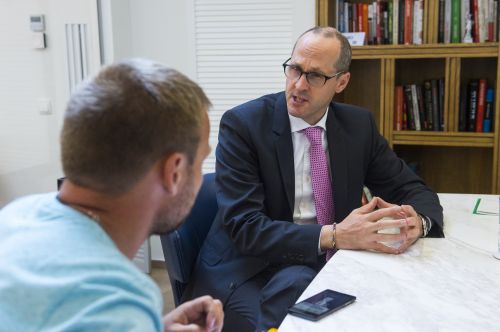 This year Lufthansa adopted several changes (automatic registration, design unification of airplanes, new seats, etc.). In some way, these moves made the group similar to low-cost carriers. Or was it just cost reduction?
S.K.: No, we do not want to be similar to low-cost airlines. Most of the measures you have mentioned are connected with cost reduction. However, some of them deal with our premium segment, such as new seats. I think that the low-cost model is not suitable for Lufthansa, Austrian Airlines and SWISS as they have the hub and spoke business model.
However, low-cost airlines become more popular in Europe and inside Lufthansa Group there is a low-cost carrier Eurowings. Will you increase its capacity?
S.K.: As for Eurowings, I must say that last year we increased its passenger traffic by 77%. This year, in terms of a strategic point of view, the biggest growth will take place in the point-to-point segment, so Eurowings can become an even more important player in our Group. I want to emphasize that Lufthansa will not shrink the premium segment. We are also growing in this segment, last year the growth was 7%. It is an important part of our business. We will continue to combine these two models inside our group.
Lufthansa Group consists of six airlines. Will the group continue to buy other carriers?
S.K.: Of course, we are observing the market very carefully. Airline consolidation takes place in Europe as well as in the US where this process is much more advanced. If you look at share of largest airlines in the US, they have 80%, whereas the five largest airlines in Europe have only above 40%. We expect that consolidation of airlines will go on. Lufthansa Group, as number one aviation group in Europe wants to take an active role. However, as for the future, let us see.
Is it possible to unite all group's airlines under one brand?
S.K.: Our brand strategy is our advantage. Because our three main brands – Lufthansa, Austrian Airlines, SWISS – have a very high value not only in the home market of Germany, Austria and Switzerland but also on the foreign markets like Ukraine. Every brand of Lufthansa Group works independently and plays its unique role in our business. For example, Eurowings is mostly associate with point-to-point destinations, while Brussels Airlines has a diversified network in Africa.
Last year LOT Polish Airlines launched first long-haul flights from Polish regional airports and from foreign ones, i.e. Budapest. Are you regarding the same possibility?
S.K.: Currently no. Lufthansa Group has a diversified network of long-haul destinations from several European hubs: Frankfurt and Munich for Lufthansa, Vienna for Austrian Airlines, Zurich for SWISS. Eurowings, which is based in Dusseldorf currently, has a couple of long-haul flights. At the end of October, the airline will open new destinations, for example, Bangkok, Havana, Las Vegas and Montego Bay in Jamaica.
At the end 0f 2016 Ryanair started to fly to Frankfurt airport that is the Lufthansa's main hub. At that time, the Group criticized the Fraport decision due to special fees for Irish carrier. Did the situation change? How did Ryanair entering to Frankfurt effect on your business?
S.K.: We see that we do still fill all the capacities on the routes we fly together with Ryanair. It means that Ryanair stimulates the market. However, we have not seen any influence on our figures. At the same time, we had a long discussion with Fraport, operator of Frankfurt airport, about infrastructure development and airport fees. We appreciate competition but only fair competition. That's why the main point of our negotiations with Fraport was to make sure that we receive the same costs as other competitors. Now, we have a very constructive talk with Fraport. Frankfurt is our main and key hub, that's why we need these talks now and in the future.
How do you appreciate the future of the group for the next five or ten years?
S.K.: This picture is the best illustration to our future (Mr Kreuzpaintner shows the slide of his presentation – CFTS). Our success is based on three pillars: to be number one among premium airlines in Europe (the goal for Lufthansa, Austrian Airlines SWISS), to be number one among point-to-point airlines on home markets (the goal for Eurowings), and to be number one in the world in aviation service (the goal for Lufthansa Cargo and Lufthansa Technik). We are going to these ambitious purposes by three strategic directions – consolidation, digitalization and flexibilization. During next years, we will continue to implement these goals into reality.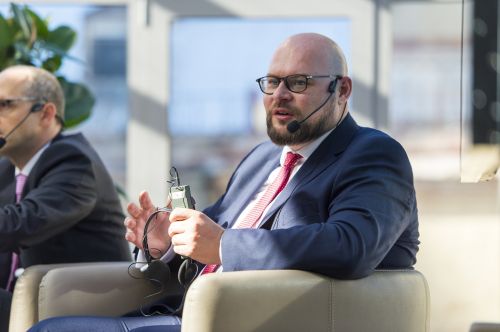 What plans does Lufthansa Group have for Ukraine?
Rene Koinzack: Our nearest plans for Ukraine is to launch flights from Brussels on October 17. Brussels Airlines will perform them. Therefore, we are expanding our presence in Ukraine. This move is a part of our strategy. This year we have already launched SWISS flights between Zurich and Kyiv as well as we increased frequencies of on the Frankfurt – Kyiv route from 16 to 20 flights per week. In addition, we invested in capacities by introducing airplanes with more seats on Ukrainian flights. Our plans for next year will depend on success of our endeavors in 2018. We always observe the market, and if we see the increase in demand on some destinations, we are ready to add new frequencies.
What the main obstacles to Lufthansa Group for entering new airports in Ukraine?
R.K.: I think that obstacle is not correct definition for aviation. Launching new route needs to fulfill many requirements, the main of them, as for me, is demand. New route is very difficult and complex investment decision. An aircraft costs money and it should earn money. We are realists, and we do not start to fly without demand. Therefore, we restored our flights between Kyiv and Zurich and intend to relaunch ones between Kyiv and Brussels.
I have asked you about this because in Ukraine there are opinion that modernization of runways in regional airports will attract airlines to them. Is it enough just to repair runway?
R.K.: I think it is wrong opinion. In Germany, there are many cities investing in their airports but nobody flies to them. Of course, an airport needs a good runway but it is not the single reason in attracting airlines. As for me, to start a flight you need demand, strong demand.
At the beginning of September, Ryanair has entered into Ukrainian market with Kyiv – Berlin flights. How it will effect on Lufthansa Group position in Ukraine?
R.K.: We welcome competition, at the same time the Lufthansa Group and Ryanair have different customer segments. Our network gives us some advantages. We have no direct flights between Kyiv and Berlin but the passengers can reach the capital of Germany at 9 or 10 a.m. via Frankfurt, Munich or Vienna and can return with our flights at 8 p.m. If you are a businessman, time is very important for flights. I think our customers are satisfied with our product and our offer.