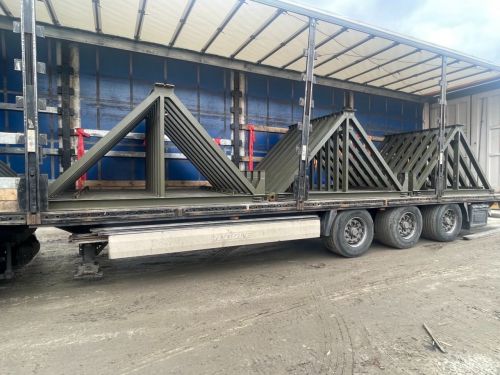 Trucks carrying 14 temporary bridges that the Czech Republic's Administration of State Material Reserves (ASMR) donated to Ukraine as humanitarian aid have crossed the Ukrainian border.
The Ukrainian Ministry of Development of Communities, Territories, and Infrastructure of Ukraine announced this in a statement, the CFTS portal reports.
According to the statement, 153 bridges have been destroyed on Ukraine's state roads during the Russian military aggression, and European countries are helping to restore transport links by providing temporary bridges.
The temporary bridges donated by the Czech Republic will be installed in place of those destroyed during the full-scale Russian invasion.
"Bridges are key elements of any transport network. During the full-scale war, Ukraine is focusing its efforts on facilitating passage through destroyed crossings. With an urgent need for temporary structures, we are working with our friends and international partners to establish a high-quality and reliable logistics system in Ukraine," Minister of Community Development, Territories, and Infrastructure Oleksandr Kubrakov said.
Easily assembled metal bridges from the Czech Republic are already in use in Ukraine. The Czech Republic has donated 10 bridges to Ukraine in the past year. Some of them have already been installed and opened to traffic in the Kyiv, Kharkiv, and Cherkasy regions.
The Czech Republic, France, Norway, and Sweden have sent temporary bridges to Ukraine since the beginning of the Russian-Ukrainian war. In total, these countries have donated 29 temporary bridges. Some of these bridges have already been installed and opened to traffic in the liberated territories in the Kyiv, Chernihiv, and Kharkiv regions.