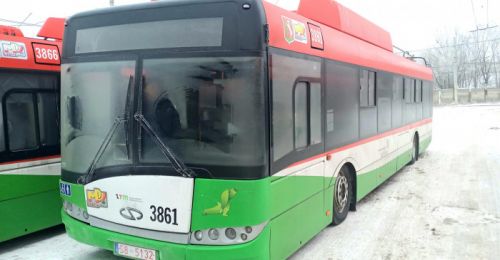 Vinnytsia has received the second batch of Solaris Trollino 12 low-floor trolleybuses manufactured in Poland.
Vinnytsia Mayor Serhii Morhunov announced this in a statement, the CFTS portal reports.
"In total, 20 trolleybuses in good condition were purchased to upgrade the transport company's fleet. These vehicles were manufactured from 2011 to 2012. We are waiting for the last batch of trolleybuses from Lublin," the mayor said.
According to him, the newly delivered trolleybuses are awaiting certification, state registration, and preparation for operation.
As the CFTS portal reported, the first batch of six trolleybuses arrived in Vinnytsia a few days ago.
Trolleybuses of the Solaris Trollino 12 model are designed to carry up to 110 passengers. They have low floors and air-conditioned cabins, and they are comfortable for passengers and drivers. The bodies of the trolleybuses are made of high-strength, corrosion-resistant steel.