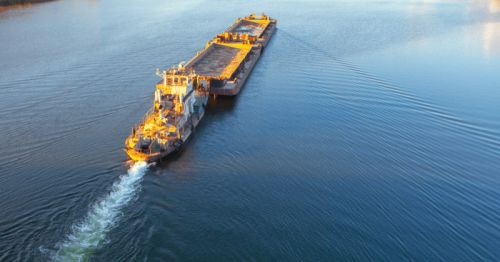 The European Business Association has proposed an action plan to speed up the transportation of freight on River Danube, the CFTS portal reports.
The association noted that key Ukrainian ports have been blockaded as a result of Russia's military aggression against Ukraine and that the inability to export Ukrainian products, particularly agricultural products, has become a global problem because it could lead to a global food crisis.
"Under the current conditions, Ukrainian products are being exported through River Danube and the Sulina Canal, among others. The association's member companies have reported a line of ships near the Sulina Canal, with an average waiting time of 10 days or more. It should be noted that every day of downtime costs Ukrainian exporters about USD 500,000," the association said in a statement.
In connection with this, experts at the European Business Association's Logistics Committee have appealed to the secretary-general of the United Nations, the vice president of the European Commission, and Ukraine's chargé d'affaires in Romania to implement several measures to address the situation in the Danube region.
In particular, the companies propose receiving up to six vessels simultaneously (currently only two berths have been allocated by Romania), increasing the Sulina Canal's opening hours, and allowing traffic through the canal during the dark hours of the day, which could double its throughput capacity. It would also be appropriate to allow expedited registration of vessels when there is a vacant berth, the association said.
"The maximum speed of passage through the canal could also be increased while taking the specifics of the design of the canal itself (it is currently 5.65 knots or 6.5 mph) into account," the association said.
Businesses also propose considering the possibility of cargo transshipment in the roadsteads of the ports of Sulina and Constanta, as well as at "Mile 61 of River Danube," when there are no free ports.
"We believe that these steps are quite realistic. Taking these steps would speed up and thus increase traffic flows on River Danube, including the volume of Ukraine's agricultural exports," the association said.
"At the same time, it is necessary to address the significant restriction that prevents an increase in cargo flows from Ukraine through the ports of the Danube River. Yes, European companies are expressing their readiness and desire to finance the transportation of Ukrainian export goods, but they are afraid of military risks, because of which new logistics chains may be broken. Therefore, companies expect guarantees of investment protection (this already exists for exports) from state agencies. The main issue now is insurance coverage. The Ukrainian authorities have developed guarantees of safe passage of ships in the waters of the Ukrainian ports in the Danube region and transportation of freight by rail. Therefore, we hope that this mechanism will be implemented soon," said Daria Sichkar, manager of the European Business Association's Logistics Committee.