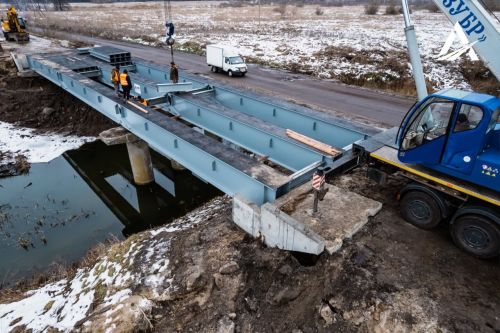 The first modular metal bridge donated by France has been installed in the Chernihiv region. The region received three such structures.
The first of the three bridges was assembled and installed on beams, the Ukrainian Ministry of Infrastructure said in a statement, the CFTS portal reports.
According to the statement, the bridge's roadway is ready for use because a special anti-wear coating was applied to it at the factory in France.
Each of the French bridges is designed for specific use. They can be used both as temporary and permanent bridges. They are intended for use by passenger and cargo vehicles. A layer of a special road surface has already been applied to them at the production facility. Therefore, vehicular traffic can resume as quickly as possible.
As reported previously, Sweden will become the fourth European country to donate temporary bridges to Ukraine to allow the country to restore traffic in places where Russian military aggression has destroyed bridges. Sweden will donate six modular bridges to Ukraine.