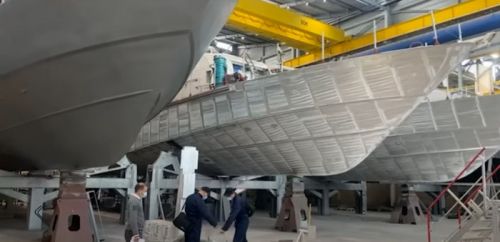 The hulls of 10 patrol boats intended for Ukrainian border guards are being built at the OCEA company's shipbuilding facilities in France.
Ukraine's State Border Guard Service announced this in a statement, the CFTS portal reports.
According to the statement, a group of officers from the State Border Guard Service has arrived in France to monitor the construction of the patrol boats.
The State Border Guard Service took delivery of the hull of the first FPB 98 MKI patrol boat that was built for the Ukrainian coast guard in late winter 2021. Systems, devices, and mechanisms are already being installed on five patrol boats.
The first FPB 98 MKI patrol boat is expected to be launched by the end of this year.
Service members from the State Border Guard Service's Coast Guard will be sent to the OCEA shipyard at the beginning of next year to undergo training on the operation and maintenance of the new patrol boats and their individual mechanisms, systems, and devices.
The crews and maintenance personnel for the FPB 98 MKI patrol boats are currently being trained at the Ukrainian State Border Guard Service's educational institutions.
Twenty modern FPB 98 MKI patrol boats will be built for the State Border Guard Service under an intergovernmental framework agreement that the internal affairs ministers of Ukraine and France signed in November 2019.
A Ukrainian shipyard will fulfill a quarter of the orders, using French technologies.
The FPB 98 MKI is a maneuvering patrol boat with a length of over 30 meters. It is made of lightweight aluminum and has a maximum speed of up to 30 knots and a cruising range of 1,200 miles at a speed of 12 knots. Each of the patrol boats will be equipped with modern optoelectronic surveillance systems, RIB boats for survey groups of border guards, and modern weapons.
The patrol boats will be used for guarding the state's maritime borders, territorial and deep-sea surveillance operations, control of vessels at sea, search and rescue operations, and countering sabotage and reconnaissance operations.