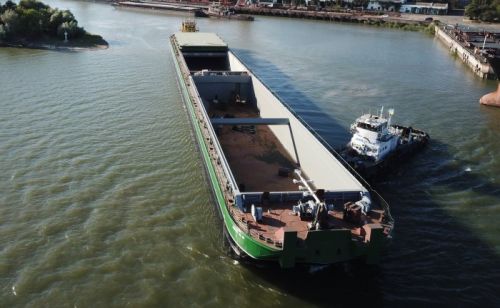 A 128-meter D-6000 barge that the Dunaisudoservis joint venture and the Dunaisudoremont company built jointly for the Svitlovodsk river terminal, which is part of the AgroVista holding, has been launched in Izmail.
Dunaisudoservis announced this in a statement on its Facebook page, the CFTS portal reports.
According to the statement, this this was an inter-operational launch and the barge's hatch covers will now be installed.
The vessel was named Dnipro-AV-01.
As reported previously, the barge is expected to be delivered to the customer this month. It plans to use the barge for transporting corn on River Dnipro this season.
The non-self-propelled sea- and river-going vessel has a length of 127.6 meters, a width of 16.3 meters, and a draft of 3.8 meters. It also has an air draft of 6.7 meters when empty, a displacement of 6,000 tons in fresh water, and a displacement of 7,418 tons in seawater at a draft of 3.8 meters.
As reported earlier, this is the largest barge to be built in Ukraine since the country attained independence.