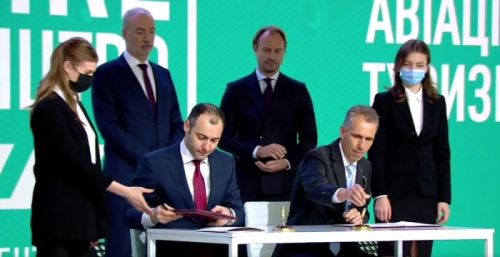 The Ukrainian Ministry of Infrastructure and the Airbus aircraft manufacturing company signed a memorandum of intent to cooperate on the establishment of a Ukrainian national air carrier on 25 November.
As the CFTS correspondent reports, the document was signed by Ukraine's Minister of Infrastructure Oleksandr Kubrakov and Airbus' Vice President Sales, Central and Northern Europe, Russia & Central Asia Kimon Sotiropoulos.
According to Kubrakov, the airline will become profitable within 5 years. "The market will grow, it is recovering. I am confident that there will be enough room for everyone in our market. We will not try to compete as tough as possible with private airlines," the minister of infrastructure said, commenting on the signing of the memorandum.
"We already have confirmation of the economic feasibility of creating such an airline from our French consultants, and the corresponding business plan has already been drafted," he added.
"Flying from scratch with new technology means the airline will start with a low carbon footprint," said Sotiropoulos.
As reported previously, the new airline will be named Ukrainian National Airlines (UNA).
UAH 0.5 billion in state budget funds is allocated for the creation of the national air carrier in 2021. An additional UAH 2.5 billion will be needed in 2022.
An Airbus A220-300 (formerly known as Bombardier CS300) was presented at the Boryspil airport in September. The aircraft is possibly seen as the primary aircraft in the new carrier's fleet.