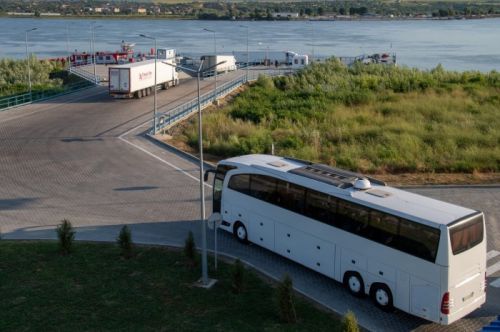 The investors and initiators of the launch of the Orlivka-Isaccea ferry service on River Danube intend to turn the ferry complex into a river port in the future.
The Odesa regional council's deputy head Yurii Dimchohlo, who is one of the initiators of the project, stated this in an interview with the CFTS portal after the ferry complex's first year of operation.
"We want to turn Orlivka not only into a ferry complex, but also a river port … so that small vessels, including foreign ones, can also dock and passengers from Ukraine can travel to other countries on River Danube. It will essentially be a riverboat station," said Dimchohlo.
"The hydraulic structures are currently designed for ferries only. Therefore, we need to build a separate berth. We are currently preparing a feasibility study, after which we will understand the volume of investments. In addition, we want to build a comfortable parking lot for trucks," he said.
As reported earlier, there are plans to establish a simplified checkpoint between Kilia (Ukraine) and Chilia Veche (Romania). Only passengers will be able to use the crossing on the River Danube and carriage of vehicles is not yet being planned. However, the option of launching a ferry here in the future is being considered.