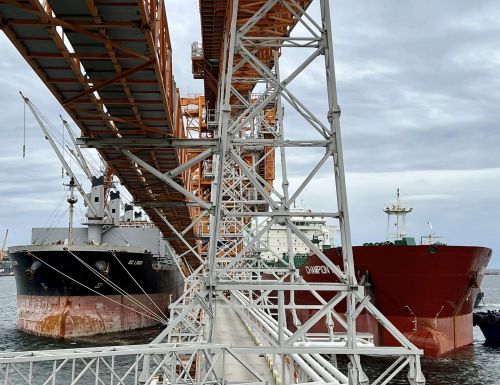 The Risoil group of companies has announced the full launch of a two-sided pier in the port of Chornomorsk, the CFTS portal reports.
"It is a large investment project that the team has been actively implementing since 2021 with the involvement of leading experts," Risoil said in a statement.
According to the statement, the construction project cost UAH 1.5 billion, including the cost of unique technological equipment for transshipping oil and grain.
"The approaches to the pier were dredged under the terms of the first take-or-pay contract in Ukraine, which was concluded between the USPA and Risoil Terminal for the implementation of interconnected projects," the company added in the statement.
After its commissioning, the two-sided pier's ability to simultaneously handle different types of cargo on both sides, using a stationary ship-loading system with a capacity of up to 3,000 tons per hour, was tested successfully.
As reported previously, the construction of the facility began in April 2021. For its implementation, the company reached a dredging agreement with the Ukrainian Seaports Authority (USPA). The USPA completed the dredging of the approaches to the pier in January 2022. This will allow vessels with drafts of up to 15 meters to be processed at the pier.
Risoil emphasized that such a two-sided pier is unique for Ukrainian ports. It will be equipped with a ship-loading system with six booms, each with a capacity of up to 1,500 tons per hour, as well as a pneumatic ship unloader with a nominal capacity of 600 tons per hour.
Risoil completed the construction of the two-sided pier in the port of Chornomorsk on 21 March and completed all the bureaucratic procedures necessary for the launch of the innovative pier in early May.