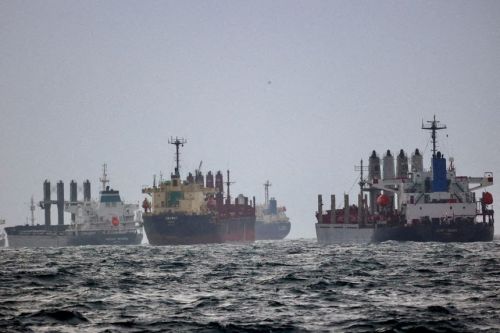 Russia has not unblocked the inspection of vessels despite the announcement of the extension of the Black Sea Grain Initiative, which established a humanitarian maritime corridor to allow ships to export grain and other foodstuffs from Ukraine.
Ukraine's Deputy Minister of Community Development, Territories, and Infrastructure Yurii Vaskov announced this in a statement, the CFTS portal reports, citing the Voice of America.
"The grain initiative has been unblocked. However, it is just a matter of words for now because not a single vessel has been inspected despite the statements. That is, 62 incoming vessels are still awaiting inspection. None has been approved by all the parties to the agreement, namely by the Russian Federation," he said.
According to Vaskov, the number of inspections should be sufficient to ensure that ships do not have to wait more than two days for inspection.
"It could be 10, 15, or 20. Inspections for ships and not the other way around. That is, the function of the Joint Coordination Center is to provide a coordination service and not regulate what to do and what not to do based on the decision of one of the four parties," Vaskov said.
He emphasized that 16 inspections of inbound and outbound ships per day would be sufficient to ensure that there are no queues and that the world receives the maximum amount of food.
"If it is going to be a system, three ports are currently working on it. Regarding Plan B, we have something prepared. It is an internal matter. We will plan its implementation when we clearly understand that the initiative is not working. However, we are nevertheless hoping right now that our partners will ensure effective implementation of the Black Sea Grain Initiative," Vaskov said.