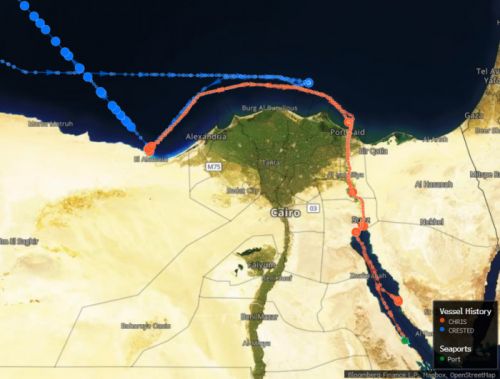 Reporters with the Bloomberg news agency have concluded that Russia is likely using Egypt as an intermediate point in its crude-oil export network to circumvent Western sanctions.
As the CFTS portal reports, citing the Economic Pravda publication, in particular, vessel-tracking data monitored by Bloomberg showed that a cargo of about 700,000 barrels of Russian crude oil was delivered to Egypt's El Hamra oil terminal by the Crested oil tanker on 24 July. A few hours later, another vessel, the Chris, collected a consignment, which may have included some or all of this Russian crude oil, from the port.
According to Bloomberg, this terminal also offers possibilities to blend Russian crude oil with Egyptian crude oil, making it difficult to establish its origin.
"The unusual move makes the cargo's ultimate destination harder to track, adding to a trend of Russian oil shipments becoming increasingly obscured since European buyers began to shun them following the nation's invasion of Ukraine," Bloomberg wrote.
According to the news agency, Egypt is already being used by Russia as a transit route for fuel oil.
As reported, the European Union intends to advise importers of crude oil to "write in the purchase contract a clause according to which the exporter confirms that the oil sold does not contain any Russian oil and that should it be the case the exporter would be contractually responsible for any misdeclaration."