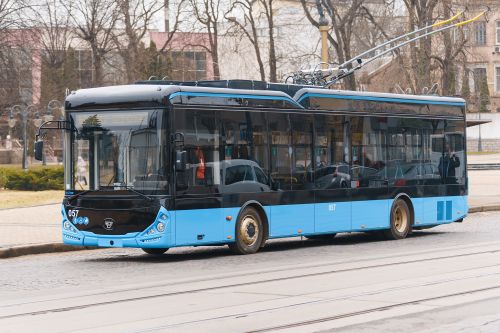 Trolleybuses began operating on two new routes (route No. 14B from the railway station to the Akademichnyi micro-district and route No. 15B from Vyshenka to Khutir Shevchenko) in Vinnytsia on 20 March.
Vinnytsia Mayor Serhii Morhunov announced this in a statement, the CFTS portal reports.
According to him, the launch of the routes became possible because the new VinLine trolleybuses can operate autonomously for up to 20 kilometers. Two trolleybuses will operate on route No. 14B and one trolleybus on route No. 15B.
The trolleybuses are assembled in Vinnytsia, using bodies manufactured by the Turkish company Otocar. There are plans to build two more such trolleybuses.
As the CFTS portal reported, such trolleybuses have low-floor bodies, they are equipped with ramps, and they offer places for wheelchair passengers and parents with baby strollers.