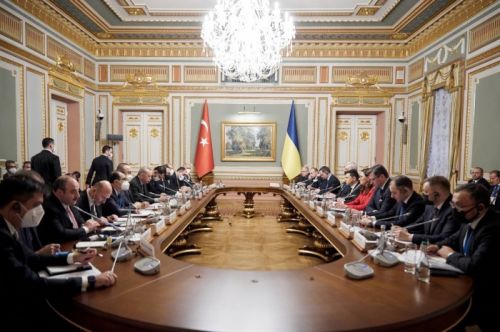 Ukraine and Turkey reached an agreement on the conclusion of a Free Trade Agreement (FTA) on 3 February. The agreement was signed in Kyiv in the presence of President of Ukraine Volodymyr Zelenskyi and President of Turkey Recep Tayyip Erdogan.
This was announced by Ukraine's Minister of Infrastructure Oleksandr Kubrakov, the CFTS portal reports.
"The document also contains an infrastructure component, agreements within the framework of which will become the basis for deepening cooperation and implementing new infrastructure projects," he said.
A historic agreement on the full liberalization of road transport was reached within the framework of the Free Trade Agreement.
Restrictions on Ukrainian road carriers will soon be lifted in the Turkish market. In particular, this also applies to the entry of empty vehicles, i.e. trucks will be able to drive in empty and return with goods.
"Strategically, our goal is the removal of as many restrictions on Ukrainian carriers as possible. In negotiations with the European Union, Ukraine is seeking complete liberalization of road freight transport. The next step is to broaden the cooperation on combined and multimodal transport between Ukraine and Turkey. We propose creating special conditions for the establishment of transport networks in the road-port-road format," Kubrakov said.
According to Kubrakov, Turkish companies are already actively involved in the construction of key road facilities: the M-30 Stryi – Izvaryne Highway, the H-31 Dnipro – Tsarychanka – Kobeliaky – Reshetylivka Highway, the M-18 Kharkiv – Simferopol –Alushta – Yalta Highway, etc.
"It is specifically Turkish companies that are building out-of-class bridges in Kremenchuk and Zaporizhia. I hope that we will succeed in broadening cooperation thanks to new projects, including the construction of concession roads," the minister of infrastructure said.
In addition, joint work is continuing on an agreement on cooperation on search-and-rescue operations in the Black Sea.
"For Ukraine, this is an important issue that became acute after the annexation of the Crimea. The agreement with Turkey will help Ukraine to legally secure the areas belonging to it and improve the opportunities for conducting search-and-rescue operations. This will eliminate the insinuation by the aggressor country that Ukraine has failed to fulfill its international obligations," said Kubrakov.
In addition, according to Kubrakov, an important issue is trade cooperation in the Black Sea, namely cooperation between Ukraine's largest state stevedore, the Pivdennyi port, and its Turkish partners.
"Among Ukrainian ports, it will potentially be able to receive the largest ships entering the Black Sea thanks to the Istanbul Canal. This could open up new markets of large-sized vessels for Ukraine. Several other Ukrainian ports are open to concessions and other forms of public-private partnership," said Kubrakov.
Regarding the aviation industry, the proposals include expansion of the geography of air travel between the two countries.
"In particular, a proposal to designate Uzhhorod as a destination for regular flights to Turkey on the territory of Ukraine, including flights on the Istanbul-Uzhhorod route," the minister said.