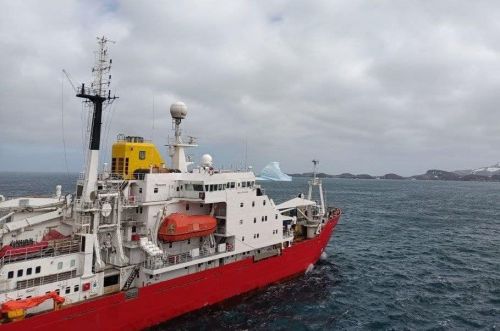 The Noosfera icebreaker has delivered Polish researchers to the Arctowski Polish Antarctic Station on its way from South Africa to the Vernadsky Research Base (the Ukrainian Antarctic station) in its second Antarctic season under the Ukrainian flag.
The National Antarctic Scientific Center announced this in a statement, the CFTS portal reports.
"The Arctowski Polish Antarctic Station is on King George Island in the West Antarctic. Our icebreaker will first land a team of Polish polar explorers and unload equipment there. The ship will then deliver to Vernadsky Ukrainian technical workers, who are scheduled to complete urgent work on the modernization of the station," the statement said.
The Noosfera arrived at the Polish station on 21 January. According to the Noosfera's captain Pavlo Panasiuk, the ship ran into storms and passed huge icebergs on the way from Cape Town (3,759 miles or over 6,000 kilometers), but the team successfully overcame all challenges.
As stated previously, the icebreaker will then deliver cargo and a team of Ukrainian technical experts to the Vernadsky Research Base. These experts are expected to complete the ongoing modernization of the research base's infrastructure. "This season, there are plans to replace the heating system, establish a new site for holding boats, work on the grounding of the station's diesel and main building, and perform several other urgent works necessary for the successful winterization of the 28th UAE," the National Antarctic Scientific Center said recently.