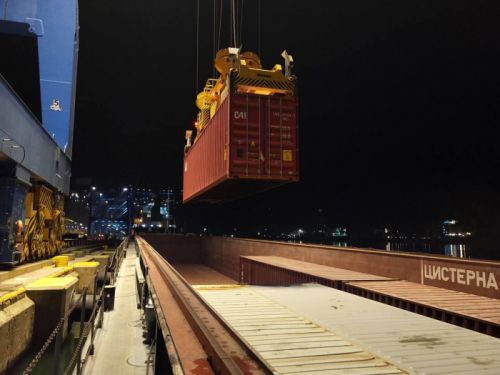 The Ukrainian Danube Shipping Company (UDP) has launched a container caravan between the ports of Izmail and Constanta (Romania).
The UDP announced this in a statement, the CFTS portal reports.
The container caravan, which consisted of the Captain Shirkov self-propelled vessel and five barges (with a total capacity 300 TEU), was formed in Izmail for the first time in late May.
The unloading of the caravan in Constanta has now been completed.
"The caravan has already been partially (180 TEU) loaded with import cargo. We hope to welcome our vessels in Izmail at the end of next week," the shipping company said in the statement.
According to the statement, container transportation offers an opportunity to operate the UDP's fleet more efficiently because grain caravans are usually forced return empty. In addition, container transportation may be in demand for the performance of both export and import operations, the statement said.
"We began container transportation with small volumes, with the share of export cargoes significantly exceeding the share of import cargoes in April-May. However, we have managed to establish a balance, attract the interest of freight shippers, and create the necessary volumes of cargoes for transportation in both directions. Our idea of launching the container caravan has been successful, and we feel that the demand for container transportation will increase," the UDP's head Dmytro Moskalenko said.