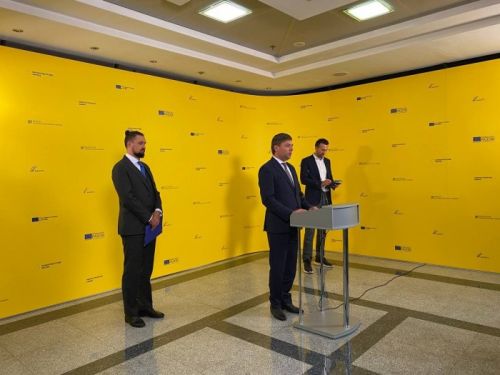 The first meeting of the Anti-Crisis Headquarters on restoration of the Ukrainian Railways joint-stock company (Ukrzaliznytsia) to sustainable operation was held at the Ukrainian Ministry of Infrastructure on 17 September.
Deputy Minister of Infrastructure Vasyl Shkurakov, Ukrzaliznytsia's acting Board Chairman Oleksandr Kamyshin, and member of Ukrzaliznytsia's supervisory board Serhii Leschenko addressed a news briefing after the meeting, the CFTS portal reports.
"We have held the first, constituent meeting. We considered an important issue regarding operations and outlined a working plan for the future. One of the key issues that we considered was Ukrzaliznytsia's procurement, procurement plans, and problems... The issues of financial and economic operations and the setting of performance indicators for the supervisory board were also considered. We began work today, we will work very actively, and the Ministry of Infrastructure will lead this process," the CFTS correspondent quoted Shkurakov as saying.
"As of today, less than a third of Ukrzaliznytsia's procurement program has been completed and for some items, 0 tons have been purchased. For example, 129 tons of rails have been purchased as of today, compared with 10 years ago, when 100,000 tons of rails were purchased per year, and five years ago, when 50,000 tons were purchased per year. However, it is difficult to build anything without rails. The situation involving track switches is similar. The solution to this problem lies not only at Ukrzaliznytsia; we need the help of the supervisory board, the Ukrainian Ministry of Infrastructure, the Cabinet of Ministers, and the parliament. We requested this help today," Kamyshin said.
Leschenko said that he was not a member of the anti-crisis headquarters, but he was invited to its meeting. He also noted that several issues involving procurement are beyond the powers of Ukrzaliznytsia and expressed hope for cooperation with the Ministry of Infrastructure on this issue.
The Cabinet of Ministers recently approved the creation of the Anti-Crisis Headquarters for restoration of Ukrzaliznytsia to sustainable operation. It was announced that the first meeting of the headquarters would focus on the situation involving procurement of critical materials necessary for stable operation of the railway industry and repairs.
As the Ministry of Infrastructure told the CFTS portal, the next meeting of the Anti-Crisis Headquarters will take place in a month.