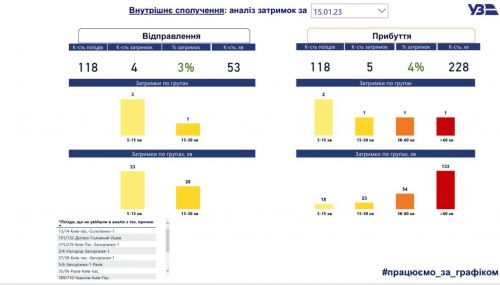 Ninety-seven percent of the long-distance domestic trains in Ukraine departed on schedule and 96% arrived on schedule on 15 January 2023, which is another record for the Ukrainian Railways joint-stock company (Ukrzaliznytsia) since the beginning of the full-scale war.
Ukrzaliznytsia's head Oleksandr Kamyshin announced this in a statement, the CFTS portal reports.
According to Kamyshin, 118 trains departed and arrived on 15 January. Eight trains were not included in this analysis for technical reasons.
Out of the 118 trains, only 5 were delayed (2 were delayed for up to 15 minutes, 1 for up to 30 minutes, and 1 for up to 1 hour). Only one train was delayed for over 1 hour.
As reported earlier, Kamyshin recently declared 8 January as Ukrzaliznytsia's best day in terms of the punctuality of its trains because 96% of them departed on schedule and 95% arrived on schedule on that day.
Last year, Kamyshin said that 24 November was Ukrzaliznytsia's worst day in terms of departure of the company's trains on schedule and their punctual arrival at their destinations. On that day, only 37% of the company's trains arrived on schedule because massive missile attacks on Ukraine's energy infrastructure disrupted train schedules.
As the CFTS portal reported, the punctuality rate of long-distance trains in Germany was the worst in the history of rail transport in the country in 2022. On average, only 50-60% of the Deutsche Bahn railway operator's long-distance trains reached their destinations on time.