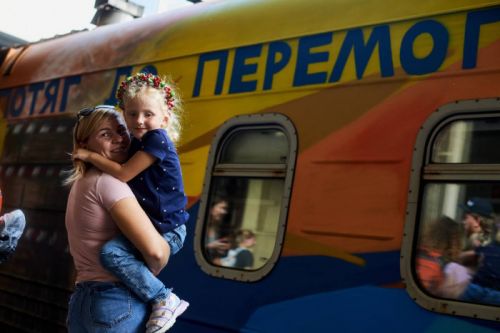 The Ukrainian Railways joint-stock company (Ukrzaliznytsia) launched the "Train to Victory," a train made up of railcars on the sides of which Ukrainian artists have painted themes related to the struggle against Russian occupiers, on 23 August. Each railcar is dedicated to Ukraine's temporarily occupied territories and the feats of Ukrainians resisting the Russian invaders.
The train comprises seven passenger cars, the CFTS portal reports, citing a statement by Ukrzaliznytsia.
"The goal of the project is to show that Ukraine remembers those who are under temporary occupation, that we have not forgotten the Kherson region, the Donetsk region, or the Crimea. The train will operate on the Kyiv - Uzhhorod and Zaporizhia - Lviv routes from 23 August. connecting the entire country from west to east," Ukrzaliznytsia's head Oleksandr Kamyshin said.