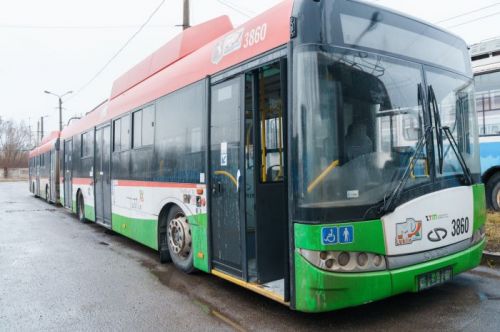 Vinnytsia has received the first batch of Solaris Trollino 12 low-floor trolleybuses.
Vinnytsia's Mayor Serhii Morhunov announced this in a statement, the CFTS portal reports.
"We already have 10 trolleybuses. We expect as many more soon. Thanks to these trolleybuses, we will replace the outdated and energy-consuming ZiU-9 trolleybuses manufactured in the 1980s," Morhunov said.
According to him, these Polish-made trolleybuses are not new, but they are in good technical condition and the best option for upgrading the city's trolleybus fleet in the current difficult conditions in terms of price-quality ratio.
"People need to be transported, and transportation needs to be energy-saving, given the situation involving electricity supplies," the mayor of Vinnytsia said.
Trolleybuses of the Solaris Trollino 12 model are designed to carry up to 110 passengers. They have low floors and air-conditioned cabins, and they are comfortable for passengers and drivers.
The bodies of the trolleybuses are made of high-strength, corrosion-resistant steel.
The trolleybuses must undergo certification and state registration before they can begin operation on the city's routes. They will be adapted to Ukrainian standards: validators and on-board systems will be installed, and they will be painted in the traditional colors of Vinnytsia's electric vehicles.
Simultaneously, drivers will be trained in Poland. The Lublin-based transport company that operated these trolleybuses will also provide software and technical support.