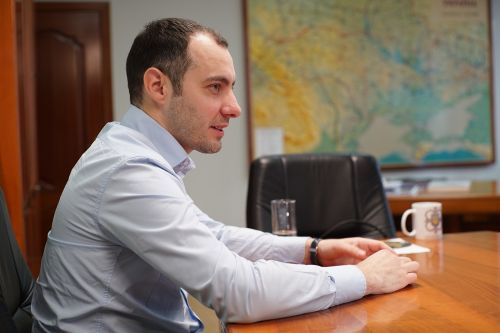 "I traveled to Kryvyi Rih last year. I was driving at 20 km/h at night and I still did not know how to get through certain sections of the road. In one section, it was better to drive off the road into a field than on the road," Ukravtodor's new head Oleksandr Kubrakov said, sharing his personal experience.
His predecessor Slawomir Nowak, who held the post for three years, described his work as a kamikaze mission in an interview with the CFTS portal. Kubrakov inherited a better situation – at least a Road Fund is already in operation and there are more contractors on the market. At the same time, like Nowak, Kubrakov would like fewer people to hate Ukravtodor and for the entire country to be connected by good roads.
The government and Ukravtodor have set the ambitious goal of repairing up to 6,000 kilometers of roads this year. This requires the stars to align and for Ukravtodor to secure funding from all the three sources.
You have been the head of Ukravtodor for two months now. What has been the most difficult issue for you during this period?
Probably the end of the year. There was a rather difficult situation in the country at the end of the year, and it was important for us not to enter the New Year with debts but to settle everyone in 2019. However, we closed the year fully through joint efforts. Only some nuances remained.
Is this your first job in the public sector?
If the parliament is not taken in to account, then it is the first.
Many top business executives moving into the public sector complain about the stifling bureaucracy in the sector. To what degree does this affect your work?
I am used to bureaucracy. At BRDO, we learned to work with it. I was doing exactly the same thing that I am doing now, and I understand how the bureaucracy works very well, which Cabinet of Ministers resolutions I need, how they are passed, etc. I have long understood that if you need to get something done, you have to do it yourself. Therefore, I cannot say that there is something unexpected for me in this area.
Did you come alone or with your own team?
One of the key people who came with me is Yevhen Kuzkin. He was transferred from the Ministry of Finance to the post of director of the financial department. Andrii Pochtarev, who is experienced, also came.
Tell us about the personnel in regional road agencies.
We have already replaced about 70% of the heads of regional road agencies.
Were competitions held?
Competitions should be held for the top positions. However, Yevhen Kuzkin, for example, came via a transfer. In the regions, everyone should go through a competition. We had the option of spending three to four months holding competitions ... but decided to appoint acting officials for now and see how they perform. So far, I do not regret this decision.
The practice of appointing acting managers is very widespread in the transport sector. It turns out that you are continuing the practice.
It is a temporary measure. We will abolish it in the future. I am not the acting head of Ukravtodor; I went through all the competitions and bear full responsibility.
Can you already identify the most problematic areas in the industry?
Firstly, there are many manual solutions. That is a politically correct way of describing it, although, in reality, it is more connected with corruption. For example, we had the task of paying everyone at the end of the year. However, some people came running, caught up with me near my office, and asked me to pay them. We had a different position: we pay everyone or no one. I was surprised that people were coming to me.
Secondly, Ukravtodor developed a good methodology for selecting facilities to be constructed in the period of 2011-2012, but nobody has ever used it. Before then, decisions on which roads to build or repair were subjective. I am not saying that we now have no subjectivity at all, but our plans are 90% based on a methodology that takes account of socio-economic indicators and the intensity of road traffic.
Have you personally encountered corruption?
We work with our security forces and they are helping me somewhere. For personnel decisions, there were several good references. Regarding the corruption of the past, we have definitely encountered them and we are now interacting with law enforcement agencies. Personally, I have not encountered corruption and nobody has come to me with bribes.
Personally, I have not encountered corruption and nobody has come to me with bribes.
How many kilometers of roads were built or repaired last year?
850 kilometers of state roads and 1,500 kilometers of local roads.
What are the plans for construction and repair of roads in 2020?
We have several scenarios. First, if we are talking purely about increased allocations to the Road Fund, then together with international financial organizations (UAH 31.5 billion from the Road Fund and about UAH 5 billion from international financial organizations) we plan about 1,500 kilometers of state roads and 2,500 kilometers of local roads. That is a total of 4,000 kilometers.
The second scenario provides for an additional UAH 19.3 billion for financing state roads. Last week, the parliament voted in favor of two bills that are of critical importance to us: amendments to the Budget Code and the 2020 state budget. These bills give us the opportunity to raise additional funds in foreign markets. We are considering various options. One of them is to issue Eurobonds. We will still consult with the Ministry of Finance on when and how best to do this. For now, we are planning it for the end of the first half of the year. Thanks to this, we will be able to repair an additional 1,000 kilometers of roads (about 5,000 kilometers, including local roads).
The third scenario involves additional funding from the state budget. There will be state budget revenues, and we hope that we will be able to spend part of this money on road repairs. For now, I do not want to reveal all our cards. It will soon become clearer. We want to repair 6,000 kilometers of roads via this mechanism, including 2,500 kilometers of roads of local importance. Our ambitious goal is 6,000 kilometers in 2020.
What other legislative changes are necessary for normal operation of the road industry?
There is an important point about pricing in the road construction industry. In post-Soviet countries there are cost estimates in which all items of expenditure are stated in detail. We need to move away from this. Now, there is the bill No. 2234, which will allow us to implement pricing reform and make it the same as in the entire civilized world.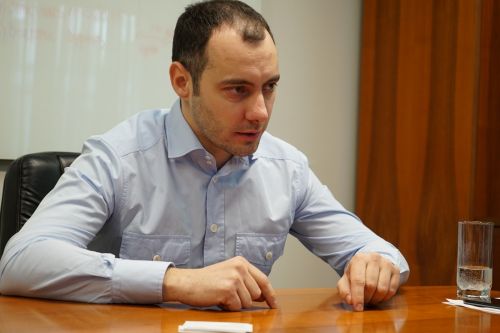 Is there anything stopping foreign contractors from coming to Ukraine?
I met with one of the owners of the Strabag company (an Austrian construction company). They said that they wanted to enter Ukraine several times, but there were always "extra fees," that is, something was demanded from them. However, I assured them that the country's senior officials could personally guarantee that there would be no "extra fees."
In addition, there is pricing, which I already mentioned. There is also the tender documentation, which was previously tailored to certain players. We have already developed standard qualification requirements, tender documentation, and contracts. I think that we will approve everything in the coming days.
Lastly, foreign companies are apprehensive of our bureaucratic procedures, but we can work on it.
In personnel issues, priority should be given to the local population. All taxes should be paid in Ukraine.
Besides Strabag, which companies would you like to see in Ukraine?
We have no preferences when it comes to choosing contractors as long as they are willing to work transparently and observe the rules of fair competition and the laws of Ukraine. If we manage to implement our third, most ambitious scenario, we will need new market participants. There has never been so much volume on the market. In addition, new players are needed in order to raise standards. I would like to see companies from Turkey, China, and Europe. There are enough players on the world market, and given the fact that almost everything has already been built in Europe and Turkey and the fact that China is already being built ... they can come to us.
At the same time, we understand that all companies must be registered in Ukraine. In terms of personnel, priority should also be given to the local population and all taxes should be paid in Ukraine.
What is the current cost of road repair?
It depends on the facility and the category of road. For example, the cost was approximately UAH 16.5 million per kilometer on the Zaporizhia-Mariupol highway. Several contractors worked on the Dnipro-Zaporizhia section of the H-08 highway, but the cost for one was UAH 21-22 million per kilometer and the cost for the other was UAH 26 million per kilometer. We still need to understand why there is such a difference.
However, there are issues that are more important. For example, crushed stone, which is one of the main materials for construction of roads, can cost UAH 200 per ton in one place and around UAH 900 per ton in another place. We primarily need to control these things. Even bitumen prices can vary significantly.
Your predecessor thought this work was for kamikazes. What do you think about that?
I do not have that feeling. We have ambitious goals and a desire to do things differently in order to unite Ukraine and for all these "I hate Ukravtodor" groups to become less popular and for the state to show that it can be a state.