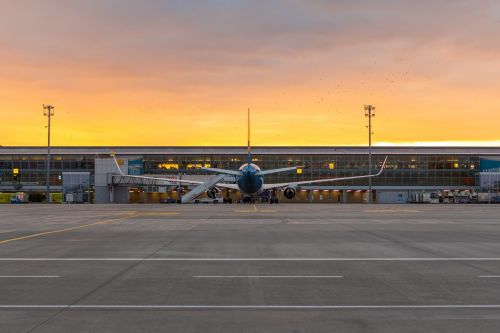 Picture by Ihor Kolesnyk
Aviation and tourism were the first businesses to fall victim to the COVID-19 coronavirus pandemic. After the dangerous virus conquered Italy and began spreading throughout Europe, it became clear that the transport industry, particularly the aviation industry, was not ready to withstand the threat.
Not the best time to fly
The governments of European countries, the United States, and other countries have significantly restricted or banned international flights in an attempt to slow the spread of the infection. However, even where there are no government-imposed restrictions, the fall in demand for flights has made them unprofitable.
In connection with this, international aviation organizations are already predicting the most dire consequences for the industry – from huge losses around the world (up to USD 113 billion, according to a forecast that the IATA made in early March) to bankruptcy of most of the world's airlines by the end of May (according to analysts at the Australian-based CAPA – Centre for Aviation).
According to the very optimistic scenario, the industry will begin "returning to life" by the end of April, with carriers retaining their capacity and partially making up for their lost profits in the summer season. According to the pessimistic scenario, if the aviation industry does not begin to recover before the end of June, it will be a very serious test for the industry.
Carriers with low margins of safety have begun to "crumble." For example, the coronavirus pandemic was the last straw for the British-based Flybe airline company, which is the largest regional carrier in Western Europe: the company was declared bankrupt on March 5 despite the government's decision to provide the USD 128 million to the company. Radical measures have had to be taken to help the Alitalia airline company. A decision to renationalize this airline company was made on March 15. Italy will need about EUR 600 million to save its national carrier, which had already been declared bankrupt before being hit by the coronavirus pandemic.
A look at Europe shows that every airline company is in a difficult situation. Below is a brief look at what is happening to Europe's largest carriers:
IAG (British Airways, Iberia, Aer Lingus, Level, and Vueling) had announced the cancellation of 75% of its flights scheduled for April and May as of March 16. British Airways has warned pilots of a possible reduction.
The Lufthansa Group is considering applying for state aid. The group has canceled 90% of its long-haul flights and 80% of its intra-European flights since March 17.
Air France - KLM As of March 16, it had reduced the volume of its operations by 30%. Transport volume was expected to fall by 70-90% by the end of that week. Up to 80% of its employees could be temporarily laid off. All of Air France's Airbus A380 aircraft and KLM's Boeing 747 aircraft will be grounded. KLM intends to cut up to 2,000 jobs, cut the working hours of its remaining staff by one third, and seek government support.
Ryanair planned to cancel 80% of its flights scheduled for April and May on March 24. It is not ruling out the possibility of grounding its entire aircraft fleet.
EasyJet has announced that it could ground most of its aircraft fleet and that it could need financial intervention.
Norwegian Air has canceled 85% of its flights and temporarily laid off 90% of its employees (7,300 people). It stopped operating transatlantic flights on March 25 and continues to fly only on some Scandinavian routes. The company said it was in danger of going bankrupt in the following weeks.
SAS suspended most of its flights on March 16 and temporarily laid off 90% of its employees (about 10,000 people).
Virgin Atlantic planned to cancel 80% of its flights and ground 75% of its aircraft fleet by March 26. It has asked its employees to take up to eight weeks of unpaid leave.
Finnair will cancel 90% of its flights by April 1. It planned to cancel 1,500-2,000 flights in the period from March 16 to March 31 alone.
The situation in Ukraine's friendly neighbors is no different from the situation in western European countries. The Polish-based LOT airline suspended all regular international flights (from Poland and Hungary) for two weeks from March 15 to March 28. The Latvian-based airBaltic airline has suspended regular passenger flights (from Latvia, Estonia, and Lithuania) from March 17 to April 14. The company's management warned a couple of weeks earlier that at least 250 employees would be laid off and that some employees would be sent on unpaid leave.
Coronavirus and Ukrainian airlines
The way Ukrainian airlines operate is not significantly different to the way their European counterparts operate, said aviation expert Kyrylo Novykov.
"All or almost all of them operate under lease programs. That is, they pay part of the cost of aircraft under long-term contracts. Of course, leasing is beneficial only if an aircraft is operated daily with a high load factor. Most airlines operate on the edge of profitability. Some Ukrainian airlines are even unprofitable. Therefore, all carriers will have a significant reduction in revenue during the quarantine period," he said.
Ukraine International Airlines (UIA) is the primary source of concern because the airline's financial problems have already led to a significant reduction of its route network in the past six months. The airline company's management had hoped that it would at least break even at the end of 2020 by optimizing its flights. According to reports by the LIGA portal, the airline company itself estimates that its revenue will fall short of the target by 35% in the first quarter of 2020 alone because of the coronavirus quarantine. The airline company canceled 2,000 flights in the period from March 17 to April 3. It planned to send 90% of its employees on unpaid leave during this period. Practically the airline company's entire aircraft fleet has been grounded, and it is operating only outbound flights.
However, interim measures will not be sufficient if the quarantine period is extended.
According to aviation expert Bohdan Dolyntse, the average margin of safety for Eastern European airlines during emergencies is about three months. This period may be longer if a country has a policy of preserving its carriers. However, how long an airline can hold on is influenced by the decisions of its investors and the funds they are willing to invest in supporting it.
Air transport is a very sensitive and low-margin business, said Yevhen Treskunov, a founding partner at Aviaplan LLC. "About 1-4% profitability is the norm for airlines around the world. On the Ukrainian market, a projected 1.5-2% annual profit is considered good for an airline. However, this 1.5-2% profit target can easily turn into a 'minus' if fuel becomes more expensive, demand falls, or the currency exchange rate changes... We understand how much this translates into if it is an airline with a billion turnover, but large company turnovers mean significant taxes into their countries' treasuries and many high-paying jobs. This is why the governments of many countries care so much about their airlines," he said.
According to Treskunov, with the current development of events, carriers cannot do without state support in one form or another, regardless of the names of their owners. This an international practice.
Officially, Ukrainian airlines, whose administrative staff is currently engaged in resolving urgent issues involving evacuation of Ukrainian citizens from foreign countries and the refund of ticket prices, are not commenting on possible losses. According to Dolyntse, the lost profits of all Ukrainian carriers in the first quarter should be estimated at UAH 3-5 billion.
Treskunov explains the mathematics of financial losses: "We can arbitrarily compare numbers by using one aircraft as an example. Supposing that the aircraft is a Boeing 737-800 with 4.5-5 crews assigned to it and that an airline suspends flights for a short period. Each crew consists of a pilot, a captain, a co-pilot, and flight attendants (6-8 people). One crew consists of 8-10 people. In total, we have 36-50 people who do not generate money for the airline company when they are not flying, but the airline needs to retain their services it has invested millions in their training and further training. The company incurs USD 500,000-600,000 in fixed costs per month just by paying the cost of leasing the aircraft and the salaries of its crews."
However, this is not all. Even if the market reopens, it will not happen at once because large numbers of potential passengers will continue to have concerns about the virus, some will simply run out of money for travel, not all countries/airports will reopen immediately, tickets are not being sold 6-9 months before flights (as it should be done), etc. Therefore, it is difficult to hope for a high demand for flights in the first few months. Meanwhile, operation of a half-filled Boeing 737-800 airliner will result in direct losses of USD 1.5 million per month.
From heaven to earth
It is obvious that the problems that airlines were the first to encounter will quickly spread throughout the industry.
"We will lose 100,000-112,000 passengers if we are out of operation for one month," said Vladyslav Ilyin, the commercial director of the Kharkiv airport, which handles only flights returning to the country because of the quarantine.
"In addition, it is not clear how the process of resumption of flights will take place. Demand will not recover in one day. It also takes time to sell tickets and return to the previous occupancy levels," Ilyin said. "It will take more time than we would like, given the fluctuation of the hryvnia's exchange rate and the economic situation in the country."
The Lviv airport has already announced that it will lose USD 20-25 million because of the quarantine that was introduced until April 3 (which was later extended). The airport has already requested that the Cabinet of Ministers reduce the size of its dividend payments to the government in the first and, possibly, the second quarter of the year. "Taking advantage of the lull, we plan to perform cosmetic repairs on the runway, the apron, and inside the terminal itself," the airport's Director General Tetiana Romanivska said recently.
However, not only airports with annual passenger volumes of 1 million or more, but also small airports, are particularly at risk. According to estimates by Airports Council International, 77% of airports with annual passenger volumes of up to 1 million are losing money. In Ukraine, the situation is slightly better. According to experts, Ukrainian airports can at least manage to break even for the season even with passenger volumes of 150,000-250,000 if everything is organized competently.
The global problem could result in bankruptcies and loss of personnel if airports (in addition to airlines) are unable to earn money in neither the second nor the third quarter, which is the entire duration of the season.
"Many small airports have annual passenger volumes of under 100,000. They do not earn much, anyway, and the local authorities do have sufficient funds for subsidies. As a result, these airports have nothing with which to maintain their certification (infrastructure, equipment, and staff availability) and pay salaries... As soon as this situation is over, everyone will spend all their money – even the money under the pillow – and they will no longer be willing to work at airports for UAH 5,000-6,000 per month just for the prestige of aviation. Therefore, there is a huge risk of many airports losing their employees and not being able to resume operations if the situation drags on into the summer," Treskunov said.
Now, some figures from the Ukrainian State Air Traffic Services Enterprise (UkSATSE). The average daily number of flights serviced by the enterprise had reduced by 58% as of March 18, compared with last year's figures, including a 66% reduction in the number of international flights and a 45% reduction in the number of transit flights through Ukraine's airspace.
The transformation of Ukraine into a white spot on the aviation map of Europe is deepening, and this will ultimately affect UkSATSE's revenue. Dolyntse suggests that the loss of revenue by the entire industry (carriers, airports, ground handling services, UkSATSE, etc.) will reach UAH 10 billion in the first quarter.
After coronavirus
It is also true that the COVID-19 pandemic will be a good "filter" for carriers by clearly demonstrating whose business model is the most stable. "Those who survive this crisis will have opportunities because the market will be cleaned up," Dolyntse said.
According to analysts at CAPA – Centre for Aviation (who are predicting that most airlines in the world will be bankruptby the end of May 2020), the post-coronavirus chaos will alternatively offer a unique opportunity to reframe the foundations of the global airline industry.
"If the will is there, finding the right directions will require leadership and a recognition that there is no place for nationalist attitudes in this most international of all industries," the consulting company said in a report.
According to the consulting company, the global airline industry is fragmented and largely unviable, and the government response to the world health war against the coronavirus has been fragmented and it is being resolved along national lines, with limited consultation.
"As things stand, the likely tepid response to the airline crisis will equally be fragmented and nationally based. It will consist mostly of bailing out selected national airlines. If that is the default position, emerging from the crisis will be like entering a brutal battlefield, littered with casualties," the consulting company said in the report. The only way to prevent such situations in the future is to merge aviation businesses based on common and not national interests, the consultants said.