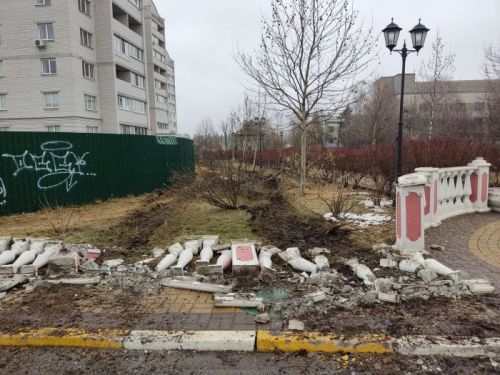 Life under occupation
Nemishaeve is an urban-type settlement with a population of 8,000 in the Bucha district of the Kyiv region. It is my little homeland. For those who are not aware of its location, the town is located along the Kyiv-Kovel highway between Bucha and Borodianka, two toponyms that have already become symbols of the heroic defense of Kyiv. It so happened that I was in my parents' house in Nemishaeve at the beginning of the war. Before I begin my story, I would like to note that Nemishaeve has not suffered as much as Borodianka, Bucha, Irpin, and Hostomel, which the Russians have turned into staging areas for their combat operations. Therefore, one could say that we are "lucky." However, I cannot bring myself to use this word in relation to a settlement that is suffering from cold, hunger, and lack of electricity and is under a complete blockade.
Fighting broke out in Hostomel on 24 February. Hostomel is about 15-20 kilometers from the town. Nemishaeve lived in relative comfort for three days, only periodically hearing loud explosions, which initially came from the directions of ​​Hostomel and Bucha and later also from Borodianka. Later, we learned that Russian military equipment was advancing from Ivankiv on several highways, including the Kyiv-Kovel highway. The town lost electricity on 27 February. Since there is no central heating in the town, most homes are equipped with gas boilers, which, unfortunately, do not work without electricity. Owners of old Soviet boilers, which do not require electricity, suddenly found themselves in a better position. Unfortunately, there are very few of them. Therefore, we suddenly found ourselves without heating during the freezing weather in February.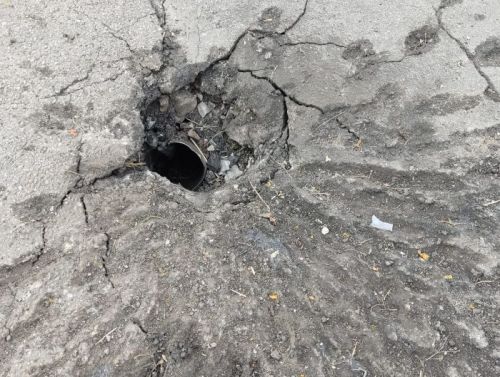 Around that time, there was a shortage of food in stores because fighting was already taking place on the main supply routes. Bread, meat, and baby food were the first to disappear from store shelves. People went to local supermarkets to buy what was left (cereals, frozen dough, sweets, and snacks), standing in lines for 3-4 hours. At the same time, local owners of small shops in Nemishaeve agreed to donate the remaining products to those in need. Volunteers established a center for distribution of goods and medicines. Trying to be helpful, I offered them my help. The most valuable items were salamis, sausages, bread, pastries, and baby food. They were all handed out one item per person and only to those who were in great need (mostly mothers with young children). Unfortunately, these products ran out very quickly.
All this time, explosions shook the town several times a day, but the Russians were not shooting at us. They simply wiped Borodianka and Hostomel off the face of the earth… Rockets fired by "Grad" and sometimes (we assumed) "Tornado" or "Hyacinth" multiple-launch rocket systems flew over our heads at least once a day. Cruise missiles regularly flew from Borodianka and Zalissia towards Bucha and Hostomel. At some point, we just began watching the "fireworks" from our windows because we had become accustomed to the constant shelling. Cruise missiles could be seen in the sky above Nemishaeve with the naked eye.
We could also see fighter jets and attack planes flying from the Belarusian border towards Hostomel and Stoianka. I was on my way home from the volunteer center when a fighter jet flew above my head at a low altitude for the first time. I immediately jumped into the nearest ditch, falling on my back and covering my head with my hands. However, fortunately for me, the aircraft's target was equipment belonging to the Ukrainian army, which was heroically defending the approaches to Kyiv. Over the next week, we became fully accustomed to aircraft flying above.
Along with the disappearance of electricity, most mobile communications operators stopped operations. Therefore, it was a problem not only to charge a mobile telephone but also to find a lucky person with the appropriate SIM card to enable us to telephone relatives for some news. Volunteers were also showered with requests from people who were unable to contact their relatives. Most of them were elderly people living alone. Our task was to visit them, use power banks to charge their telephones, and, if necessary, telephone their relatives from our telephones so that their relatives could hear their voices. Local businesspeople were also very helpful by finding power generators and fuel. They switched on these generators in the middle of residential areas for a few hours a day to enable everyone to charge their telephones.
This somewhat saved us from an information vacuum, but people were sitting in cold basements all this time, unable to keep warm even in their homes. Food supplies melted before our eyes. Residents of apartment buildings, which do not have cellars with home-made canned vegetables and vegetables and no access to water wells, suffered particularly. Initially, people went to collect water in the private sector and took the water remaining in shops, but moving around the town became deadly after the first columns of enemy vehicles arrived in Nemishaeve. A volunteer was shot dead by the Russians while he was carrying bags of food for people hiding from shelling in the basement of a school… The occupiers took the food packages for themselves. After that, residents of the town began going into the streets at their own risk and only when absolutely necessary… Washing dishes for 20 people with a few cups of water, not washing one's face for several days, and not bathing for weeks became the norm for many residents of my town…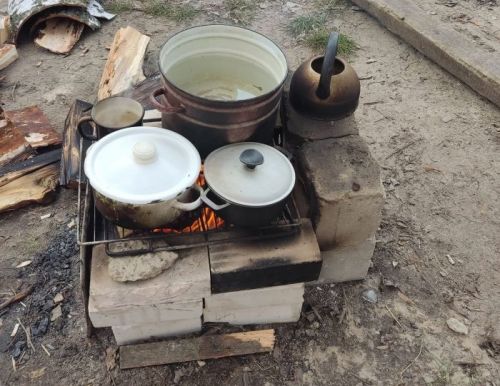 Enemy equipment marked with the letter "V" entered the town on 3 March. Initially, a few armored vehicles and tanks entered the town but the number of vehicles increased with each passing day. Nemishaeve became a "base" for the Russians (specifically the Kadyrov forces). They put their equipment right on the streets and in the yards of apartment buildings, using us as human shields.
In the first few days, the occupiers did not break into the yards of private houses (apparently fearing armed resistance) but patrolled the streets and smashed the windows of parked cars with the butts of their rifles, taking everything valuable from them. They were housed in a local student dormitory and several large private houses, the owners of which had fled. One of the private houses was on my street, about 300 meters from my parents' house.
By the end of the first week of March, we had grown accustomed to the fact that armed Russian soldiers were constantly patrolling outside our windows. To avoid going onto the streets, neighbors made holes between adjacent fences to enable them to walk over to each other's houses without attracting the attention of the Russians. We called it "urban migration." It was possible to survive only by cooperating: someone had a generator (which had to be switched on in a closed garage and preferably during shelling so that its sound could not be heard), someone had a well on his land plot, and someone had a well-fortified basement in which several families went to hide during shelling. No need to even mention the fact that food was shared with everyone.
Unfortunately, a few days after the arrival of the Russians, their atrocities began to take on new proportions. They threw a grenade into a private house and fired into another from an armored personnel carrier just for fun. The first house burned down but its owners escaped. A family of four died in the second. There were reports of seizure of mobile telephones from people and looting. Two tank shells damaged the local hospital building and the nearby gas distribution station 1-2 days later (it was very easy to lose track of the time under such conditions). The hospital was empty at the time, and local residents tried to repair the gas distribution station through improvised means. Unfortunately, the Russian occupiers damaged the main gas pipeline in the Irpin region a few days later, leaving the town without gas.
However, the biggest fear in Nemishaeve was getting injured because only few doctors were left in the entire town and there was no medicine. People could have died from a loss of blood under such conditions. The doctors, whom I cannot name for security reasons but who deserve the title of a hero, performed surgeries outside the hospital. They sometimes had to crawl on their knees between the enemy's armored vehicles in the dark to get to their patients. It is said that they ran out of surgical thread at some point and had to suture wounds with ordinary sewing threads treated with alcohol… The number of wounded people were increasing every day. They were mostly casualties of shell fragments or glass from windows broken by shock waves. Cases of passers-by being shot on the streets also became more frequent.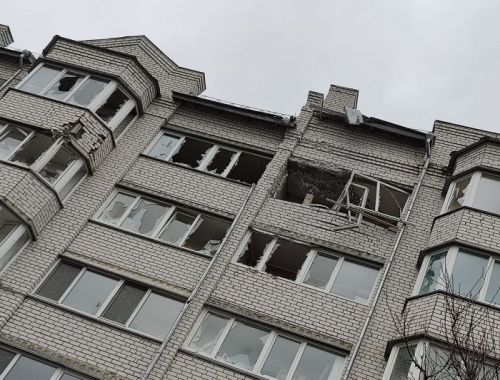 Escape under fire
It became clear that remaining at home was no longer an option when gas (the last essential lifeline) finally disappeared from the town, the number of Russian military equipment on the streets increased many times, and Ukrainian and Russian artillery became very close to the town. Powerful explosions shook the house every 15-30 minutes, and although we were no longer afraid of explosions, the destruction of the residential sector was only a matter of time. With the help of social media, residents began organizing in columns to leave the occupied town. There was no question of creating a "green corridor" at that time because all the officials that we approached said that this required the shelling to stop (but the shelling was only increasing day by day). Therefore, a departure from the town was possible only spontaneously and at the residents' own risk.
On the morning of 8 March, my neighbors and I left our street in several cars flying white flags and bearing the words "Children" and "Elderly" written in the language of the occupiers, just in case. We took only the essentials with us. We joined up with the main column of about 100 cars at the exit from the town. About a hundred more cars followed us. The first task was to get through the enemy checkpoint. To our surprise, the occupiers allowed the civilian cars to go through the checkpoint. However, Ukrainian artillery began shelling enemy positions near the town at the time of our column's arrival. I saw the occupiers' equipment burning. We were afraid of two things at that time: that Ukrainian forces would accidentally hit the column of civilian vehicles and that the Russians would want to take revenge for the shelling. Both fears were unfounded and the Russians decided not to touch us.
The occupiers said they would not let anyone through while the shelling was continuing. Only a few cars turned around and drove back to Nemishaeve. The rest remained in line on a road in the middle of a field while shells were exploding within a radius of one kilometer from us… We understood that there was no way back. They finally began allowing cars to pass through the checkpoint again after about 3.5 hours, and we drove toward the checkpoint. We were met there by young soldiers aged 20 with the characteristic Caucasus accent. They checked the trunks of our vehicles and our mobile telephones. We knew in advance that they would check our mobile telephones. For this reason, I did not save any photographs of the occupation and deleted almost all the correspondence in my messaging applications. After all, a suspicious photograph or a careless phrase or Facebook post could cost lives…
When we passed the checkpoint, we felt like we had escaped from hell. We did not know that a real horror movie that could not be turned off was still ahead of us. This episode of my life can be called "Imbecility and Courage."
Due to long checks at the checkpoint, we fell behind the previous cars in the column. After waiting for the next ten cars, we drove toward the Zhytomyr highway at the head of the next segment of the column. We initially planned to drive to Zhytomyr highway near Mykolaivka, and then drive towards Fastiv from there. However, when we approached there, we met cars that were returning. It turned out that the road around Mykolaivka was impassable because it was completely blocked by piles of burnt-out equipment. After deliberating for a while, we traveled through forest roads to another town.
For security reasons, I will not describe our route from there. We just drove at random because we did not know the roads. We roamed from town to town through forest roads and fields, stumbled upon roads blocked by burnt cars, and turned back to look for another road. Warning shots were fired over our heads several times when our column entered a street or road. Obviously, they did not want to shoot us, but the shots were fired right over our heads. We were turning around again and again and driving back. We drove through a tripwire at some point but there was no explosion. Going back the same way, we noticed a taut wire and the grenades tied to it… The entire column, which consisted of about 20 cars at that time, drove through it but it did not go off…
However, this is not my worst memory of this trip. We saw a lot of burnt equipment (both civilian and military) and many corpses on the roads between the towns located along the Zhytomyr highway. We saw a wolf eating a human body near one of the burnt vehicles. From her long blond hair, we knew it was a woman's body.
We were like blind kittens trying to get out of a trap. In the end, we made the collective decision to drive directly to the Zhytomyr highway. Fighting was taking place near the settlement of Fasova at the time, but it was at least a chance to break into the territories controlled by the Ukrainian military. On the way, we saw more burned civilian vehicles, armored personnel carriers, tanks, uncollected human bodies, burning buildings on both sides of the road… We reached a checkpoint in the town of Sitniaki, near Makarov. We could not believe our eyes when we saw chevrons with the Ukrainian flag on soldiers' uniforms. We spoke to them in Ukrainian and they replied in Ukrainian… We realized that we had been saved. Life without shelling, cold, and hunger was ahead of us.
We were very lucky. All the cars in our convoy were unharmed. A convoy leaving Nemishaeve was fired upon on the Zhytomyr highway the next day, and at least one person was killed.
A few days later, an official "green corridor" was finally created for residents of Nemishaeve at the second attempt. However, we might not have lived to see it because a shell landed in my parents' yard two days after our departure.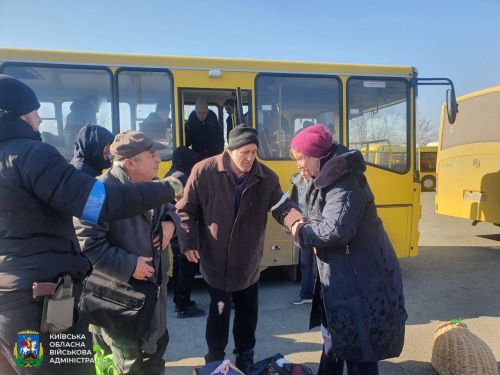 Pictures: Ruslan Biliakovych, Kyiv Region State Military Administration