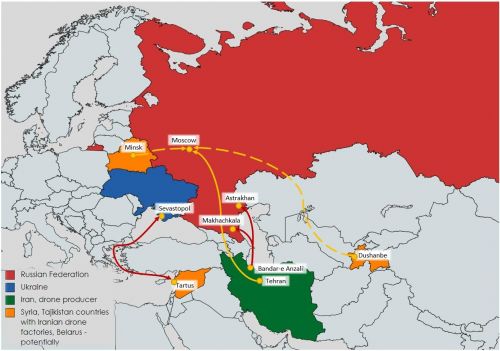 The Mohajer, Arash-1, Arash-2, Shahed-131, and Shahed-136 UAVs that Russia is using in the war against Ukraine are delivered from Iran via air and sea routes.
This is stated in an investigation by the National Resistance Center portal, which was created by the Ukrainian Armed Forces' Special Operations Forces, the CFTS portal reports.
According to the investigation, the following companies fly the drones and instructors to Russia: Iran Air (a state airline controlled by the Iranian Ministry of Infrastructure); Pouya Air (part of the Islamic Revolutionary Guard Corps or IRGC); Saha Airlines (part of the Iranian Air Force); the privately owned Mahan Air.
The latter operated flights to Ukraine on the Tehran-Kyiv route in 2016-2017. This airline is the first private air carrier in Iran but, according to the Special Operations Forces, the company has been on a United States sanctions list since the end of 2011 for providing material and technical support to the IRGC, which essentially controls it.
According to the investigation, the sea route that Iran uses to transport the drones passes through the Caspian Sea. "According to the documents, the Iranians transport spare parts for civil aviation through the Bandar Anzali port. The destination is Astrakhan or Makhachkala. They are transported on ships belonging to the Iranian Industrial Company (controlled by the IRGC). In early November, 200 drones are expected to arrive in Astrakhan by sea in a disassembled state," the National Resistance Center wrote.
It also hypothesizes that since the Russians are actively shipping stolen Ukrainian grain to Syria on the Sevastopol-Tartus route, Iranian drones and components for them could be transported in containers from a Syrian factory in the opposite direction. However, there is currently no clear confirmation of this hypothesis. Besides Syria, a UAV assembly plant has been operating in Tajikistan since May.