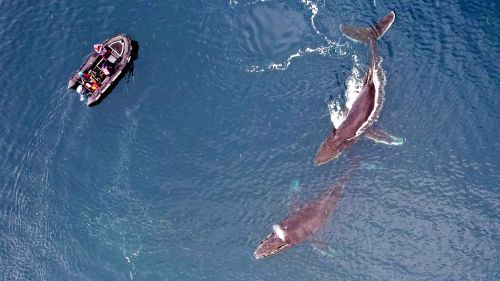 Ukrainian scientists working at the Vernadsky Research Base (the Ukrainian Antarctic station) have begun studying whales with the help of drones.
The National Antarctic Scientific Center announced this in a statement, the CFTS portal reports.
"Despite the challenges of the war, Ukrainian scientists are continuing scientific research in Antarctica with the use of new research methods. For example, biologists began using drones to better study whales, the largest animals on the planet, this season," the statement said.
According to the statement, for more accurate calculations, the drone is equipped with an additional laser altimeter, which determines the distance to a target more accurately than the onboard altimeter.
One of the important tasks of this research program is to study the reaction of whales to the approach of boats and their presence nearby. It is an international experiment, the results of which will adjust the rules for scientific and recreational whale watching in the Antarctic.
They are also using drones to study the general behavior of whales.