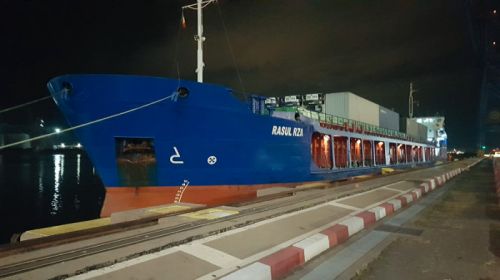 The ADY Container company, which is a subsidiary of Azerbaijan Railways, has delivered a cargo of fertilizers from Uzbekistan to Romania for the first time through a feeder service.
The fertilizer cargo was delivered by the Rasul Reza feeder vessel service, which is mainly used in the Black Sea for transporting cargoes coming from China to Europe and in the reverse direction, the CFTS portal reports, citing ADY Container.
The Azerbaijani company said that a block train carrying 54 containers loaded with mineral fertilizers departed from Uzbekistan. After arriving in the port of Turkmenbashi in Turkmenistan, the 40-foot containers were transported to the port of Alyat on the Mahmud Rakhimov ship, which performs feeder services in the Caspian Sea. The cargo was then loaded onto platforms and transported by rail to the port of Batumi, from where it was delivered to Romania.
Azerbaijan expects the attraction of goods from Central Asia to this service to increase the country's role in strengthening transport links between China and Europe in the new geopolitical situation.
Read also Bypassing Russia and Belarus: How Countries are Trying to Increase Cargo Transit on the Trans-Caspian Route