No vessel has been inspected in the past few days within the framework of the Black Sea Grain Initiative, which established a humanitarian maritime corridor to allow ships to export grain and other foodstuffs from Ukraine.
Andrii Klymenko, the head of a monitoring team at the Black Sea Strategic Research Institute, announced this in a statement, the CFTS portal reports.
He cited data showing that no vessel has arrived at the ports of Greater Odesa through the humanitarian maritime corridor since 9 May.
In addition, according to him, only one vessel was being loaded in each of the ports of Odesa and Chornomorsk as of 15 May. No ship is being loaded in the Pivdennyi seaport.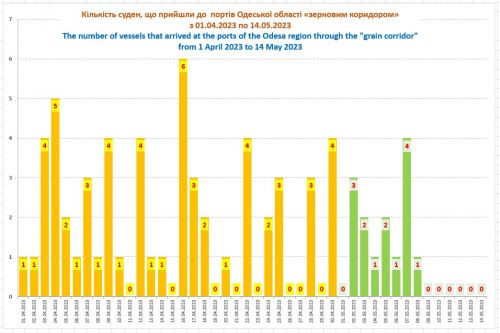 As reported earlier, talks on the operation of the Black Sea Grain Initiative ended in Istanbul (Turkey) on 11 May. However, no concrete results of the talks were announced.
Turkish mass media reported on 9 May that ship inspections under the Black Sea Grain Initiative had resumed in Istanbul. However, the latest data shows that this report is false.