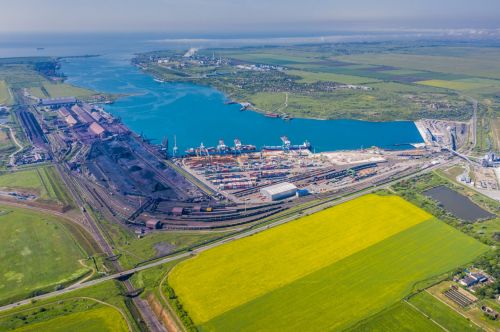 The Black Sea Grain Initiative has resumed its operations, but Russia has been blocking incoming fleets from accessing the Pivdennyi seaport, the deepest port in the region, for almost a month now. This is happening despite the efforts of the Joint Coordination Center (JCC) to resolve the issue.
On Friday, May 19th, three vessels bound for the ports of Odesa and Chornomorsk underwent inspections.
However, Russia refused to inspect and register vessels unilaterally for the Port of Pivdennyi, providing no reasons for their decision.
On Saturday, May 20th, the Russian delegation to the Joint Coordination Center (JCC) agreed to conduct six inspections of incoming fleets at the ports of Odesa and Chornomorsk, but has been conducted only 2.
On Sunday, May 21th, the Russian delegation agreed to conduct only 4 inspections but again without vessels going to the Port of Pivdennyi.
Yet again, Russia removed all ships declared for the Pivdennyi port from both the registration list and the inspection plan.
The aggressor country has been pursuing such a destructive policy since April 29, 2023, for almost a month. Currently, in the Port of Yuzhny, over 1.5 million tons of agricultural products for ten countries are supposed to be loaded onto 26 vessels, which are still waiting in the territorial waters of Turkey.
The Pivdennyi port was shut down due to a lack of fleet. In reality, Russia is preventing its participation in the "grain initiative," which constitutes another serious violation of the signed agreement.
Thus, Russia has found a new method to undermine the effectiveness of the "grain agreement" and subsequently reduce global exports. This exclusion is particularly significant as the Pivdennyi port has the largest capacity, and its exclusion will have a considerable impact on export volumes.
Once again, Russia demonstrates its disregard for international law and principles.
This aggressive country has no intention of fulfilling the agreements it has signed, persistently using food as a weapon for political blackmail.