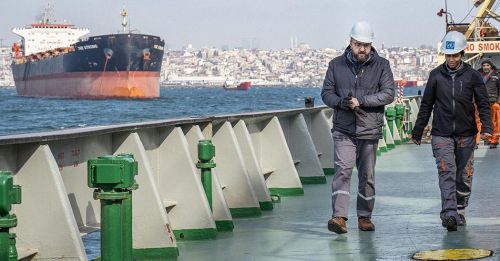 The Russian Federation has essentially blocked the Black Sea Grain Initiative (which established a humanitarian maritime corridor to allow ships to export grain and other foodstuffs from Ukraine) again by refusing to register or inspect vessels bound for Ukrainian seaports.
The Ukrainian Ministry of Development of Communities, Territories, and Infrastructure announced this in a statement, the CFTS portal reports.
According to the statement, this approach completely violates the terms of the current Black Sea Grain Initiative.
"Russia's destructive policy makes it impossible to draw up an inspection plan in line with the JCC's procedures, which provide for daily approval of an inspection plan for both inbound and outbound vessels by all parties," the statement said.
Ninety ships were awaiting inspection in Turkey's territorial waters as of 8 May, including 62 ships bound for Ukrainian seaports.
Inspections of both inbound and outbound vessels are suspended.
The volume of export of Ukrainian agricultural products through the humanitarian maritime corridor did not reach 3 million tons in April.
"Ukraine categorically rejects Russia's efforts to stop the registration and inspection of inbound vessels, which should take place under the existing Initiative. We are waiting for the position of our partners, the UN and Turkey," the ministry said in the statement.