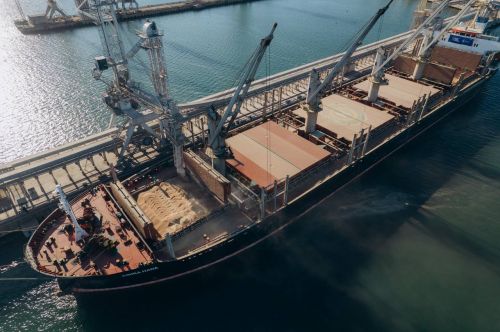 The Coordinating Council on Logistics in Agriculture has extended the decision to prioritize the passage of large-tonnage ships transporting agricultural products from the ports of Greater Odesa under the Black Sea Grain Initiative, which established a humanitarian maritime corridor to allow ships to export grain and other foodstuffs from Ukraine, through the Bosporus to increase the exports of agricultural products. The Coordinating Council on Logistics in Agriculture decided to extend the priority granted to such vessels during a meeting chaired by Ukraine's Minister of Agrarian Policy and Food Mykola Solskyi.
The Ukrainian Ministry of Agrarian Policy and Food announced this in a statement, the CFTS portal reports.
The issue was raised because of the delays in the ship inspections that the Black Sea Grain Initiative's Joint Coordination Center (JCC) conducts in the Bosporus, in which representatives of Russia also participate.
The average number of inspections has been 2.5 vessels per day since the beginning of this year, compared with 3.5 in December. Consequently, ships have piled up in the Bosporus, causing the volume of exports to fall in January. As of 18 January, 121 vessels were awaiting inspection in the Bosporus (28 loaded with agricultural products and 93 bound for Ukrainian ports to be loaded). The average waiting time is 2–5 weeks, because of which cargo owners are also losing millions.
To improve the situation and plan the operations of seaports, members of the Coordinating Council approved a proposal to extend the 23 November 2022 decision that prioritized the passage of ships through the Bosporus under the Black Sea Grain Initiative if their useful load meets the established requirements. According to this decision, the passage of vessels with a useful load of 15,000 tons for all types of agricultural products (excluding oil products) and 6,000 tons of oil products will continue to be prioritized.
According to the participants in the meeting, this decision made it possible to maintain export volumes at the previous level in December 2022 despite the reduction in the number of vessels that passed inspections and were allowed to load agricultural products.
Regarding the coverage of war-related risks by insurance companies insuring maritime transportation of grain, market participants say that despite the refusal of the IG Club's member insurance companies to cover war-related risks, other insurance companies continue to conclude insurance contracts. In general, the situation does not pose a threat to the operation of the "grain corridor" and food security.
Members of the Coordinating Council also discussed electricity supplies to granaries and the introduction of a separate electronic queue for goods with short shelf lives.