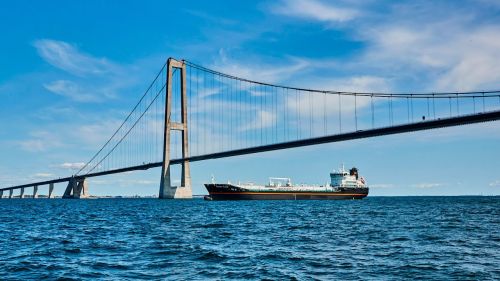 The Danish Straits, which connect the North Sea and the Baltic Sea and are one of the world's "narrowest places" for cargo transit, may be closed to Russian crude oil exports.
The CFTS portal reported this, citing the Black Sea News website.
The reason for the possible restriction of the passage of tankers carrying Russian crude oil could be the danger they pose or the lack of European insurance.
According to the report, Russia should expect disruptions in the supply of fertilizers, grain, and other agricultural products from the Baltic Sea region if the Danish Straits are closed.
The International North-South Transport Corridor will not be able to fully help redirect Russian energy exports "due to its logistical characteristics." Moreover, Russia will become dangerously dependent on Iran for transit.
The Danish Straits are a system of straits connecting the North Sea and the Baltic Sea. The straits divide the Scandinavian Peninsula and the Jutland Peninsula, where Denmark is located. Jutland is bounded by the North Sea to the west, the Skagerrak Strait to the north, the Kattegat and Oresund Straits to the east, and the Baltic Sea to the southeast.
The volumes of Russian crude oil transshipped through the ports of Ust-Luga and Primorsk for transportation through the Danish Straits in 2022 were 124.1 million tons and 57.1 million tons, respectively. In total, according to some estimates, the Danish Straits accounted for about 8% of the world's seaborne trade in crude oil.