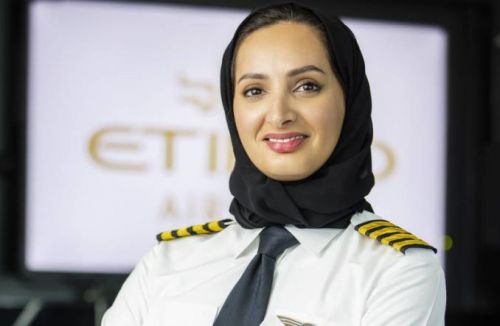 Etihad Airways has named a female pilot as a captain in a commercial airline for the first time.
Her name is Aisha Al-Mansoori. She was a senior first officer at the airline until she became a captain, the CFTS portal reports, citing the Rynek Lotniczy publication.
She became not only the first female captain of an Etihad Airways aircraft, but also the first female captain of an airline in the United Arab Emirates.
As a co-pilot, Al-Mansoori flew Airbus A320 and A330 aircraft, as well as the world's largest passenger aircraft, the Airbus A380, while working for Etihad Airways.
The pilot's command upgrade ceremony took place at Etihad's Crew Briefing Center in the presence of her family, her peers in Etihad's pilot community, and the airline's senior management. She performed her first flight as a captain on 28 August.
Al-Mansoori joined the airline's cadet pilot program in 2007. She initially trained on a four-seater, single-engine Cessna 172 aircraft. She later trained on a twin-engine Diamond DA42 aircraft. In 2010, she successfully graduated from the program and performed her first flight on an Airbus A320 aircraft as co-pilot. She progressed to flying Airbus A330 aircraft.
This is Al-Mansoori's second major achievement as a woman in the UAE aviation industry. Earlier, she became the first female UAE national to fly the Airbus A380 superjumbo passenger aircraft, the world's largest passenger plane. She has amassed almost 6,000 flight hours of flying time since joining the airline more than 15 years ago.
"Etihad is extremely proud of Captain Aisha's achievement and the trailblazing role she is playing for women in aviation in the UAE. She will no doubt be the first of many, and Etihad looks forward to welcoming more female pilots to the rank of captain in the future," Etihad Aviation Group's Chief Operating Officer Mohammad Al-Bulooki said at the ceremony.
"Aviation is gender blind, and to prove oneself, Etihad's pilots undergo intensive exams and meet strict requirements on flying hours to ensure the highest standards of training in international aviation are upheld. Aisha earned her rank and will no doubt inspire her fellow Emiratis and young women around the world to follow their dreams in aviation," Al-Bulooki added.
Interestingly, Al-Mansoori is not the first female pilot in her family. Her elder sister, Major Mariam Al-Mansoori, is the first female military fighter pilot in the history of the United Arab Emirates.
As the CFTS portal reported, Moldova recently had its first female airline pilot.