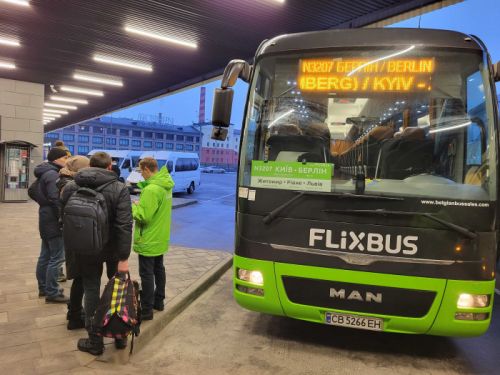 FlixBus, the largest bus operator in Europe, has announced the launch of the first direct bus line from Ukraine to Germany (the Kyiv-Berlin line).
The first bus on the Kyiv-Berlin line departed from Kyiv on 22 December, the CFTS portal reports, citing a press release by the company.
The number of the new line is N3207. Its full route runs through the following cities: Kyiv, Zhytomyr, Rivne, Lviv, and Berlin.
Buses on the line depart four times per week: from Kyiv on Mondays, Thursdays, Fridays, and Sundays; from Berlin on Mondays, Tuesdays, Fridays, and Saturdays. The travel time is 24.5 hours, including stops and border crossing time. FlixBus' partner on this line is the carrier Avtoekspress LLC, which already operates on a FlixBus line between Kyiv and Prague.
"Berlin is one of FlixBus' largest transport hubs in Europe: about 130 FlixBus services depart from there daily. Therefore, the new line opens up ample opportunities for passengers to build longer routes with transfers, particularly to about 100 cities in Germany," the company said in a statement.
"FlixBus was born as a company in Germany, and connecting Kyiv and Berlin with a direct line is a symbolic event for us. In addition, Berlin is among the top five cities in terms of demand from Ukrainian passengers. Tickets for the first services from Berlin to Kyiv and Lviv were fully booked within a few days after we added this line. FlixBus already has 15 lines from Ukraine, 7 of which were launched after the start of the full-scale war. Green buses from Ukraine travel to six European countries: Germany, Poland, the Czech Republic, Hungary, Slovakia, and Austria," said Michal Leman, FlixBus' managing director for Ukraine, Poland, and the Baltic States.