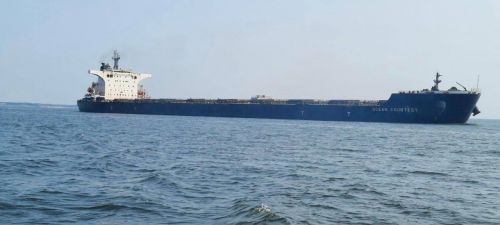 The bulk carriers Anna-Theresa (Filia Glory) and Ocean Courtesy, which left the port of Pivdennyi on 1 September, were in the Sea of Marmara and the roadstead of the Romanian port of Constanta, respectively, as of 4 September.
The CFTS portal reported this, citing vessel traffic tracking services.
The vessels are carrying 56,000 tons of pig iron and 172,000 tons of iron-ore concentrate. The Anna-Theresa had been in the Pivdennyi port since 22 February 2022 and the Ocean Courtesy since 16 February 2022.
These are the third and fourth vessels to pass through the temporary corridor that Ukraine established for merchant ships traveling to/from the ports of Greater Odesa. Before that, the bulk carrier Primus and the container ship Joseph Schulte passed through the temporary corridor.
The corridor, which was established by a navigational order issued by the Ukrainian Navy, is primarily used to evacuate vessels that were in the Ukrainian ports of Chornomorsk, Odesa, and Pivdennyi at the time of the full-scale Russian invasion of Ukraine. However, one can assume that the fact that such ships will be the first to use this corridor does not mean that other ships cannot use it in the future.