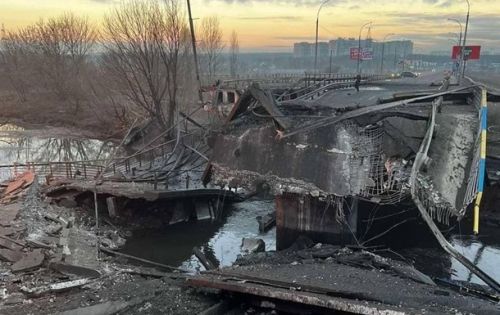 The amount of damage inflicted on Ukraine's entire infrastructure in the one month since Russia's military invasion of the country began is estimated at USD 63 billion or UAH 1.8 trillion.
The relevant data was provided by Daryna Marchak, the first deputy director of the Prozorro.Sales online auction platform and the head of the Center for Public Finance Analysis at the Kyiv School of Economics, the CFTS portal reports.
Regarding transport infrastructure, according to the data, the following were damaged, destroyed, or captured:
- 8,265 kilometers of roads (damage worth USD 27,546 million was inflicted);
- 8 civilian airports (USD 6,816 million);
- railway infrastructure and rolling stock (USD 2,205 million);
- 260 bridges and overpasses (USD 1,452 million);
- 2 ports and port infrastructure (USD 622 million);
- 10 military airfields (USD 390 million).
The loss resulting from the destruction of the An-225 Mriya, the world's largest transport aircraft, is provisionally estimated at USD 300 million.
Thus, the total damage to Ukraine's transport infrastructure is now estimated at almost USD 40 billion.
Detailed data were obtained from the Ukrainian Ministry of Infrastructure during the preparation of the report.
The "Russia Will Pay" project focuses on assessing the loss of physical infrastructure in Ukraine as a result of the war and assessing the financial cost of these losses. The project is not currently assessing the country's total economic losses, which include not only the direct loss of infrastructure but also the many "collateral" losses that the economy suffered as a result of the war (the closure of a significant number of enterprises; the loss of homes and jobs by millions of people; the cessation of investments, etc.).
As reported earlier, Russia destroyed 230 transport infrastructure facilities from the beginning of the war in Ukraine to March 15.