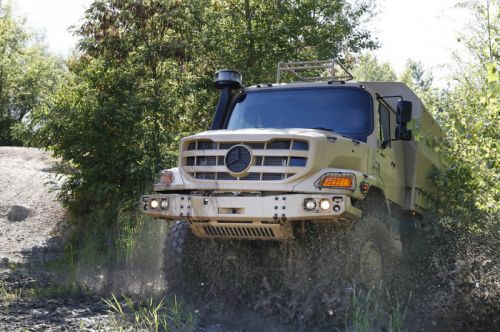 Mercedes-Benz Special Trucks has delivered more than 100 Mercedes-Benz Zetros highly off-road-capable trucks to the Ukrainian Ministry of Defense. The delivery includes a number of vehicle types for military support and logistics tasks. Even before the delivery of the Zetros trucks, drivers completed training courses and deployments with the new cab-behind-engine vehicles.
Mercedes-Benz Special Trucks announced this in a statement, the CFTS portal reports.
According to the statement, the funds for the procurement of the trucks came from the German government's support initiative, which is jointly overseen and implemented by the German Foreign Office and the German Ministry of Defense.
According to the German company, the Ukrainian Interior Ministry has been using Mercedes-Benz Zetros from previous deliveries for a wide range of disaster relief missions for several months now.
The new vehicles for Ukraine predominantly have permanent all-wheel drive and are equipped for various transport tasks. The permissible gross vehicle weight varies between 16.5 and 40 tons. The highly off-road-capable trucks feature the OM 460 six-cylinder in-line diesel engine with 265 to 350 kW (360 to 476 hp), depending on the vehicle.