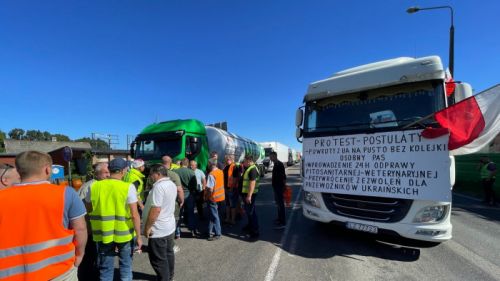 Polish truck drivers blocked the road at the Dorohusk border checkpoint on 5 September to demand establishment of round-the-clock phytosanitary and veterinary control on the Polish-Ukrainian border. Yesterday, the line of trucks waiting to cross the border at the Yahodyn checkpoint from the Ukrainian side were 54 kilometers long.
Ukraine's Deputy Minister of Infrastructure Mustafa Nayem announced this, the CFTS portal reports.
The Polish drivers blocking the road allowed one truck carrying goods and one empty truck to cross the border per hour the day earlier. They are demanding that empty trucks returning to Poland be allowed to cross without waiting in line. Their other demands are to speed up phytosanitary and veterinary control and perform this control 24 hours per day.
According to Nayem, the Polish truckers are also demanding the cancellation of the "transport visa-free" agreement (the EU-Ukraine Special Agreement on the Liberalization of Road Transport).
"The only demand that really surprises us is the demand to cancel the 'transport visa-free' agreement for Ukrainian carriers and withdraw their permits. I would like to reassure our carriers that there is currently no talk of canceling the 'transport visa-free" agreement. It is most likely a political demand by Polish carriers. The goal is to put additional pressure on the Polish government to solve the above-mentioned problems," he said
As reported earlier, Nayem recently said that the main reason for the current long lines of trucks at the border is the low efficiency of the Polish services in charge of phytosanitary and veterinary control. He cited data showing that up to 80 trucks were inspected per day before the war, compared with 12-25 per day in recent days.