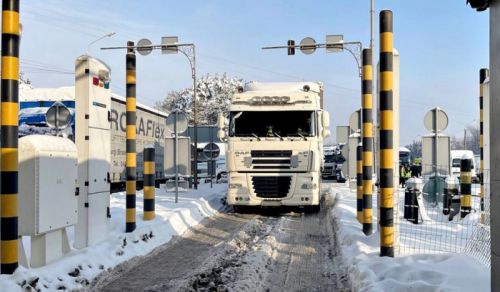 An electronic queue management system (e-queue) for trucks has been launched at the Yahodyn - Dorohusk international automobile border crossing on the Ukrainian-Polish border.
The Ukrainian Ministry for Development of Communities, Territories, and Infrastructure announced this in a statement, the CFTS portal reports.
"Over 1,100 trucks had joined the electronic queue to cross the border at the border crossing as of 18:00 on 12 December. The average number of vehicles crossing the border at this border crossing is 600 per day. However, traffic is currently moving slower than usual because of worsening weather conditions," the statement said.
Inspectors from Ukraine's State Transport Safety Service are on duty at the border crossing, helping drivers to understand the new system.
"Difficult weather conditions have persisted for more than a day, and the roads leading to the border crossing are covered in snow. Ukravtodor (the State Road Agency) is constantly clearing access roads and the waiting area near the border crossing," the statement said.
According to the statement, the electronic queue management system was created to streamline the queue at the border crossing because the flow of vehicles has increased significantly since the full-scale Russian invasion of Ukraine.
"Joining the queue is free and not tied to any service zones. It was developed specifically for the Ukrainian border crossing and takes the peculiarities of the Ukrainian legal framework into account. Ukraine is one of the first countries in the world to create and implement such a system," the ministry said in the statement.